Why MOL?

The Reason to choose
Mitsui O.S.K. Lines
Mitsui O.S.K. Lines (MOL) Group has provided safe and reliable transport of a variety of goods, including resources, energy, raw materials, and finished products, supporting the lives and industries of people worldwide for over 130 years. In order to continue fulfilling its role as an indispensable lifeline for societies to the maximum extent possible, we will endeavor to remain the company of choice by customers and partners by adapting to the changing times and market conditions.
MOL's History: "Spirit of Challenge and Innovation"
MOL, which began as Osaka Shosen (O.S.K. Lines), merged with Mitsui Shosen in 1964 and with Navix Line in 1999, to become one of the world's largest full-line marine transport groups, constantly anticipating customer needs and the demands of the times by leveraging the various histories and cultures of each company after each merger. What has enabled this is MOL's predominant "spirit of challenge and innovation". We will continue to nurture this spirit as we forge ahead to create new value.
1930: High-speed cargo ship, the "KINAI MARU," is constructed and begins rapid transport service
1930: High-speed cargo ship, the "KINAI MARU," is constructed and begins rapid transport service
The Birth of MOL and the Development of Overseas Routes
Beginning with Osaka Shosen Kaisha (O.S.K. Lines), which was established in 1884 by shipowners in the Kansai area and their combined contribution of 93 vessels, we have grown as a company, underpinning the development of foreign trade in Japan by aggressively advancing into coastal shipping routes and long-distance ocean services amid a dramatic increase in the demand for marine transportation following the Meiji Restoration. In 1930, we introduced the epoch-making "Kinai-maru," a high-speed cargo ship, which established a rapid transport service on the New York route, dramatically shortening the required number of shipping days and achieving great success.
1965: Japan's first car carrier which was equipped with RO/RO system loading/unloading equipment specifically for automobile "Oppama Maru" went into service.
1965: Japan's first car carrier which was equipped with RO/RO system loading/unloading equipment specifically for automobile "Oppama Maru" went into service.
Beyond Turbulent Times
Many Japanese merchant shipping fleets were destroyed during World War II. However, along with Japan's successful recovery from the devastation of war, we proceeded to rebuild our shipping fleet as the Japanese economy grew. In 1961, we built the world's first automated ship, the "Kinkasan Maru", that maneuvers the main engine from the bridge. In 1965, we launched the "Oppama Maru," which was equipped with Japan's first RO/RO system loading/unloading equipment specifically for automobiles. We worked to promptly respond to the need for specialized and large-sized vessels, and repeatedly took on technological challenges. This approach has enabled MOL to open up opportunities in new business fields and expand operations in existing fields.
The Wind Challenger Project, aims to Reduce Greenhouse Gases by Using Wind Energy
The Wind Challenger Project, aims to Reduce Greenhouse Gases by Using Wind Energy
For the Earth and the Future
In recent years, we have worked to expand into the new fields of "environmental and emission-free businesses" and "Contribution to SDGs" to meet the requirements of the new era. We are conducting daily research to realize future environmentally friendly transportation. For example, by introducing alternative fuel ships such as LNG vessels that emit less CO2 (construction of LNG fuel tugboats "ISHIN"), participating in the ice-breaking LNG carrier project for the transportation of energy resources and products from the Arctic Circle, which is expected to expand further in the future, and participating in the "wind challenger project" which aims for vessel operation using wind energy as a propulsion power.
Challenge to be "First"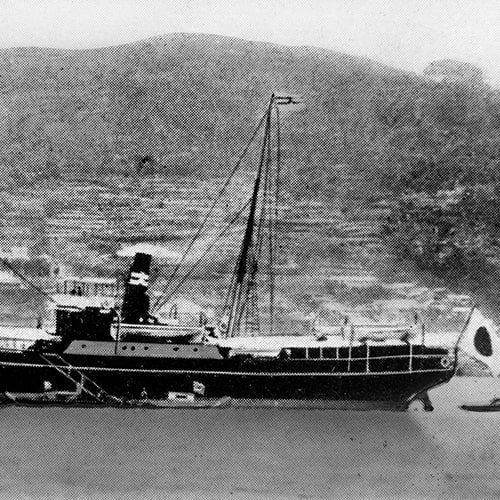 1890

First steel vessel in Japan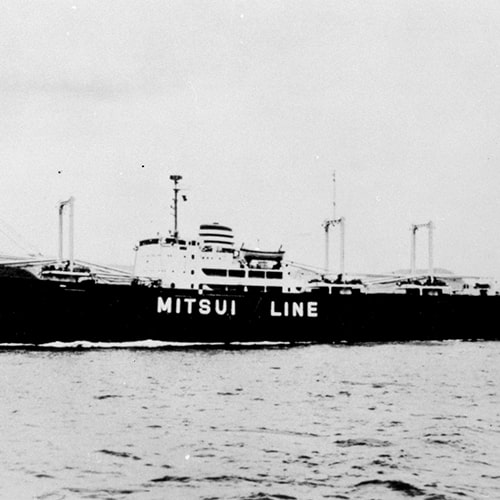 1924

First oceangoing vessel with diesel engine in Japan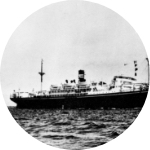 1925

First large passenger-cargo vessel with diesel engine in Japan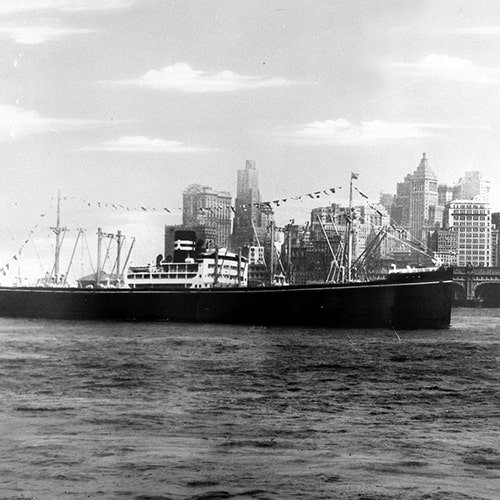 1930

High speed cargo-ship - engine output & speed set a new record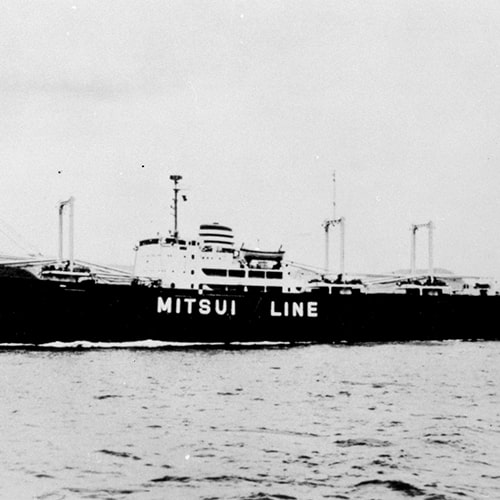 1961

First automated vessel in the world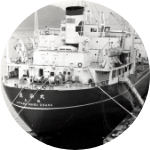 1965

First car carrier which was equipped with RO/RO system loading/unloading equipment specifically for automobile in Japan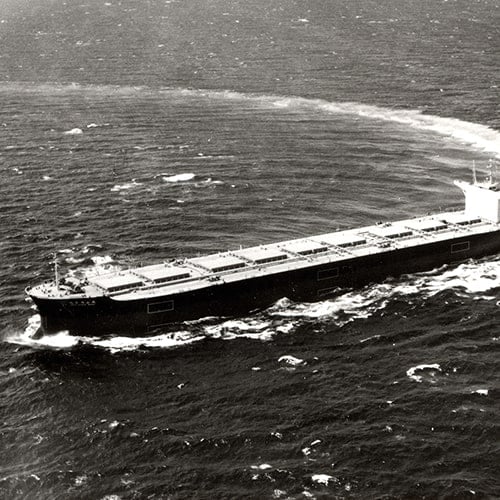 1970

Largest Ore Carrier in Japan at that time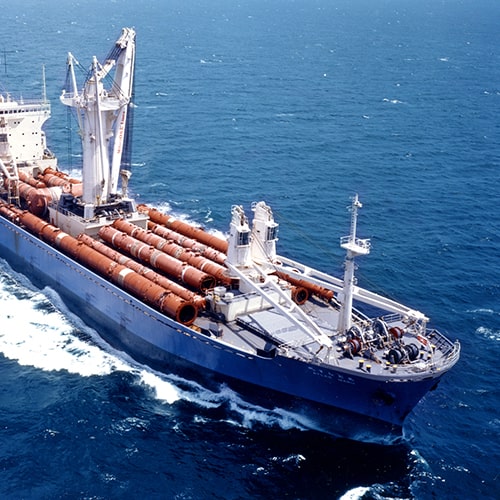 1978

Heavy Cargo vessel with largest Heavy Derrick in the World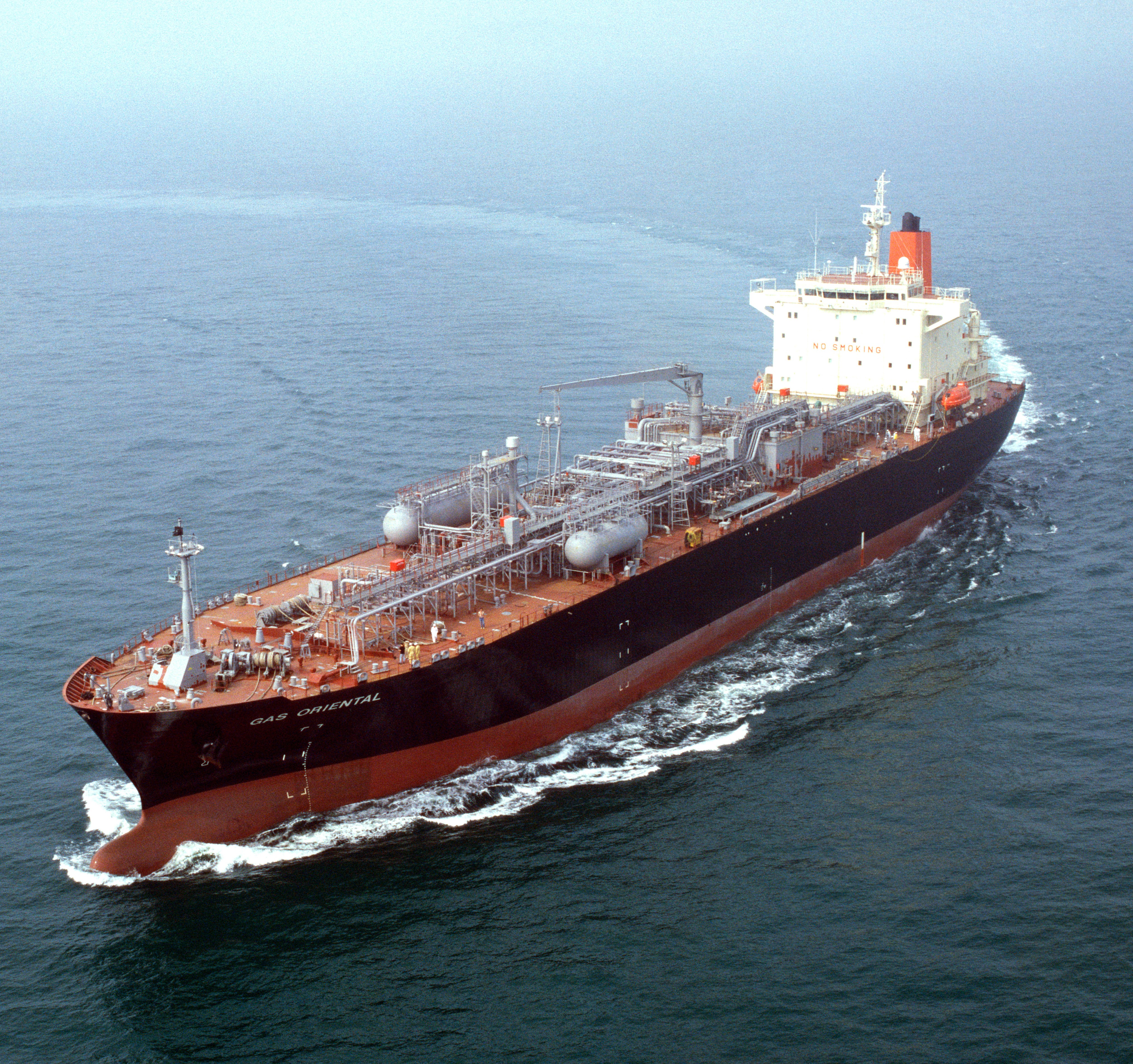 2003

First ammonia carrier in Japan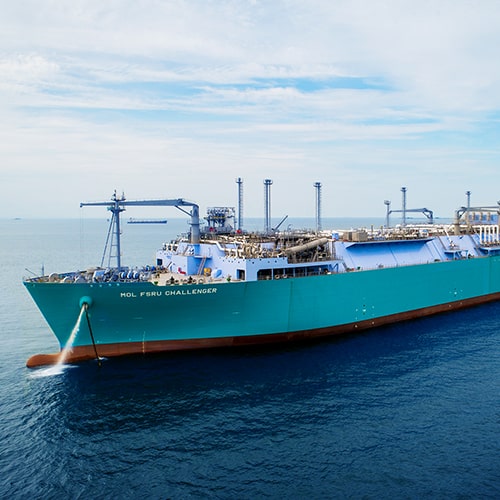 2017

First FSRU for an Asian Shipping company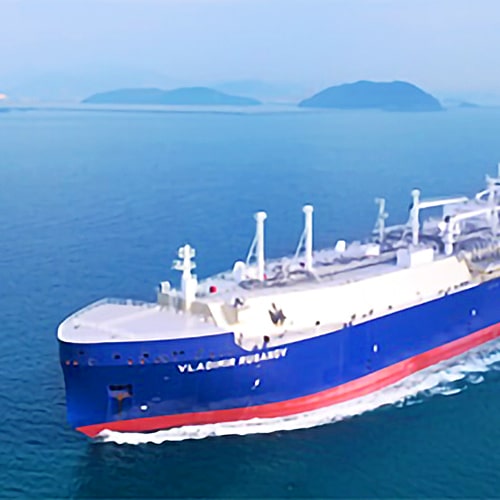 2018

World's first ice-breaking LNG carriers
We have continued to take on new challenges throughout our 130 year history under the slogan: "Spirit of Challenge and Innovation". We will continue to meet the demands of the times and continue to challenge and transform ourselves as a leader in global shipping.
Global Marine Transport Network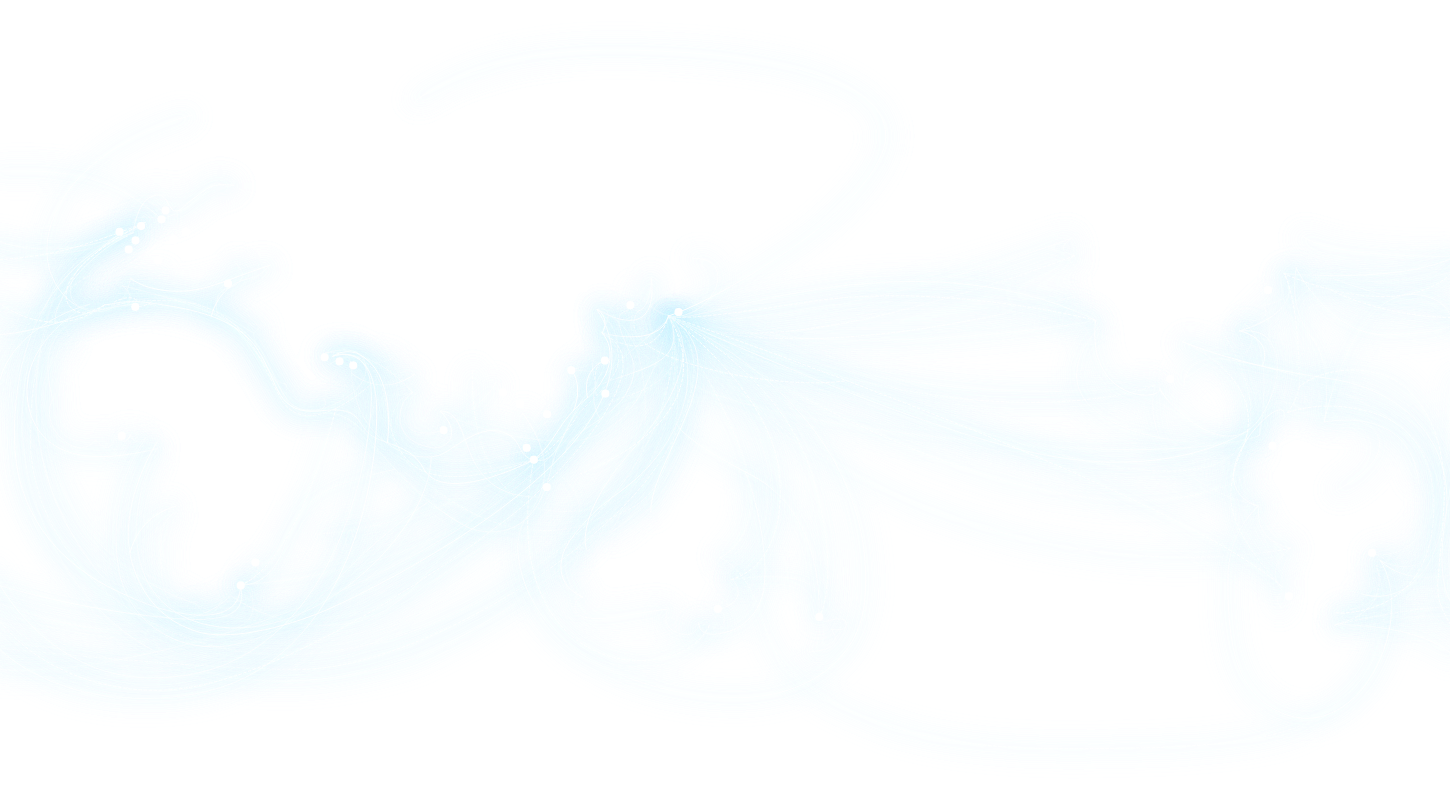 We have bases * in 42 countries and regions worldwide, predominantly in the Asian region including Japan. Each of our locations offers optimal solutions that address the specific needs of various industries and countries such as smooth ocean transportation, terminal loading and unloading, logistics to final destinations, and support for unexpected events.
Utilizing the global network of the MOL Group, we actively collaborate with partners worldwide and provide fine-tuned services not only for domestic transportation, but also for trilateral transportation and door-to-door transportation within each country.
*Subsidiaries in which MOL owns more than 50% of their stock. Includes some affiliates.
Japan (Tokyo)
China (Beijing)
Taiwan (Taipei)
Hong Kong (Hong Kong)
Korea (Seoul)
Vietnam (Ho Chi Minh)
Myanmar (Yangon)
Thailand (Bangkok)
Malaysia (Kuala Lumpur)
Indonesia (Jakarta)
Singapore (Singapore)
Philippines (Manila)
Australia (Sidney)
New Zealand (Oakland)
Netherlands (Rotterdam)
United Kingdom (London)
Belgium (Brussels)
France (Paris)
Russia (Moscow)
Poland (Wroclaw)
Germany (Hamburg)
Czech Republic (Pourzeni)
Italy (Milan)
Denmark (Copenhagen)
Turkey (Istanbul)
Algeria (Algiers)
Ghana (Accra)
Qatar (Doha)
UAE (Dubai)
Oman (Muscat)
Kenya (Nairobi)
South Africa (Durban)
Mozambique (Maputo)
India (Delhi)
Sri Lanka (Colombo)
Canada (Toronto)
United States (New Jersey)
Mexico (Mexico City)
Brazil (Sao Paulo)
Chile (Santiago)
Colombia (Bogota)
Panama (Panama City)
The World's Largest Fleet and a Wide Variety of Ship Types

Products, energy, and raw materials necessary for food, clothing, and housing, as well as for industry, are transported by "merchant ships". We operate "specialized vessels" specifically designed for cargoes such as oil, iron ore, and automobiles. In total we have one of the world's largest fleets of 816 vessels and are a "full-line marine transportation group" that handles the transportation needs of a broad range of industries.
In addition, we have improved transportation efficiency by increasing the size of vessels, and have also developed and supplied vessels that match cargo volumes and port conditions to provide our customers with optimal transportation solutions.
M-TechKnowledge

Aiming to provide safe maritime operations and environmental initiatives of the highest level in the world.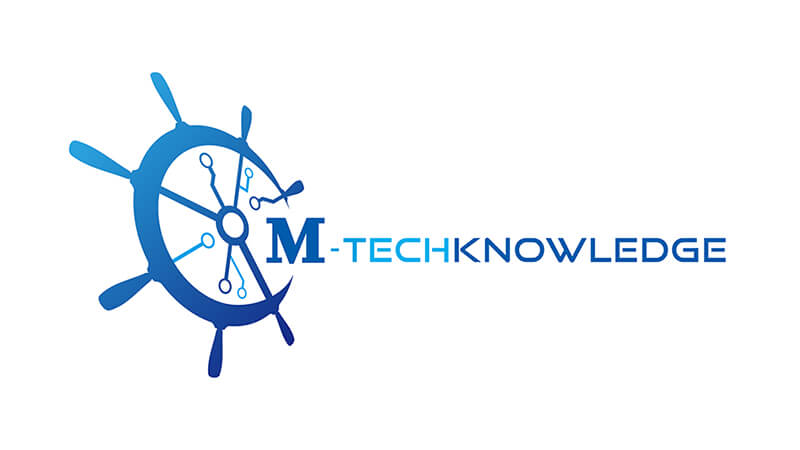 For over 130 years, we have been building Marine Knowledge and Marine Technologies including knowledge about the ocean, knowledge of ship operations, technology for ships, and networks with port authorities and shipbuilding company.
MOL will continue to endeavor to maintain safe operation and environmental protection for the Next Generation with this phrase.
Marine Knowledge
Ensuring safe operation is one of the most important factors in enabling us to continuously provide value service to society through transportation. We will never relax our efforts to strengthen safe operation and will continue to make improvements where needed. In the unlikely event of a problem, all employees will work together to resolve any issues.
Support From the Safety Operation Supporting Center (SOSC)
In 2007, we established the 24 hour, 365 day Safety Operation Supporting Center (SOSC) in the head office building, which operates under the maxim "Never let the captain become isolated". There are always 2 seamen (one of whom must have experience as a captain of a vessel) on watch at SOSC, committed to preventing serious accidents before they happen by grasping and sharing in real time threatening conditions such as bad weather situations, including winter storms, hurricanes and typhoons, and frozen river ports, and volatile political situations in places like the Middle East.
Continual Training and Securing of Excellent Seafarers
In order to prevent human errors, a major cause of maritime accidents, we emphasize training for personnel who are responsible for the world's highest level of safe operation. Training centers in six countries around the world offer a wide range of training from theoretical classroom learning to practical training using actual machines and various simulators. In August 2018, we opened one of the largest maritime academies in the Asia-Pacific region, "MOL Magsaysay Maritime Academy" in the Philippines, which provides training for cadets who will become crewmen in our company and take over the mantle of on board safety.
Strengthening Ship Management
We provide ship management services, including maintenance and management of hulls, engines and other engine parts, and operational support, mainly through our own group companies based in Tokyo, Hong Kong, Singapore, Manila, and London, as well as through ship management companies with which we collaborate. Each of these bases provides a wide range of stable support for seafarers and ships, from normal times to emergencies, by providing detailed support tailored to the needs of each region and having our marine engineers rush to the site in the event of a serious problem.
To date, we have relied on the experience and skills of the personnel onboard to maintain safety and emergency responses for vessels navigating over long distances on the ocean. However, by frequently collecting and analyzing navigation and engine data during operation, storing it in the cloud and utilizing it, we have achieved "ocean visualization". This allows us to monitor, diagnose and troubleshoot vessel situations via land-based maritime controllers, in addition to the onboard crew, thereby realizing further coordination between land and vessel and advanced vessel control.
Using ICT to Support Crew Operations
We use ICT to develop systems that prevent human errors, which account for more than half of the causes of maritime accidents, and at the same time help crew members recognize, assess, and operate the equipment appropriately. For example, we have developed a visual support system for crew members, such as lookout and maneuvering, using AR technology, and a goggle-type crew safety education tool using VR technology, to provide safer and higher quality transportation services.
Marine Technology
Utilizing our accumulated experience and technology in the field of marine transportation and our technological capabilities in ships for reducing environmental impact, we are actively involved in marine business and environmental and emission-free business, which are expected to grow further in the future.
Wind Challenger
Tackling Environmental Issues with Modern Vessels
The MOL Group is enhancing our group-wide initiatives to realize sustainable net-zero greenhouse gas (GHG) emissions in order to solve the ever more serious global environment issues. One of these initiatives is the Wind Challenger Project. In this project, a sail is installed to convert wind energy to a propulsion force in an ambitious attempt to reduce the fuel consumption of large merchant vessels that currently rely on fossil fuels in an effort to reduce the environmental load. Using a sail as a source of additional propulsion force has a big advantage in that it simply adds to other energy saving measures such as switching from heavy oil to LNG or using an alternative fuel such as ethanol, without interfering with energy saving devices below the sea level.
World's First Ice-Breaking LNG Carrier Explores Uncharted Territory
This project was made possible by leveraging knowledge as well as know-how and partnerships cultivated over years of challenges, such as implementing various special features to withstand the harsh environment in the Arctic Ocean and training the crew to operate there. The high-performance ice breaker enabled navigating through the western route where the ice is relatively thin, and also the eastern route where the ice is thicker depending on the season. Transportation through the Arctic Ocean from the Russian Arctic reduces the voyage distance by about 65% compared to going through the Suez Canal. This contributes to reducing global warming gas emissions.
Additionally, transporting natural resources through the Northern Sea route opens up a new resource supply route to Japan and other Asian countries that import natural resources. MOL is actively engaging in the growing Arctic Ocean project that contributes to stable LNG transportation by accumulating further know-how in operating in the Northern Sea route through this project.
Offshore Business
Leading the Industry by Adopting Pioneering Technologies
The offshore business is a technology-driven field, and the technologies and business models for promoting the business are evolving at a remarkable rate. We have established the Offshore Technical Division to develop technologies such as the Floating LNG Storage and Regasification Unit (FSRU), the Floating LNG Storage and Regasification System (FSRU), and Floating Production, Storage, and Offloading system (FPSO).
As the only Japanese company with experience in the operation of LNG carriers and FSRUs, we are promoting the low-carbonization of the entire group's business portfolio. In response to the growing demand for LNG-fired power generation, especially in emerging countries, KARMOL will be able to offer customers unprecedented solutions to a series of issues, such as cost, time, and environmental friendliness, by providing integrated services from receiving and regasifying LNG using FSRUs to supplying electricity through KARMOL's LNG power generation vessel business. This enables us to offer unprecedented solutions to our customers.
Additionally, we were the first company in Asia and Taiwan to enter into the Service Operation Vessel (SOV) business that is specializing in maintenance operations for offshore wind power generation, which is expected to see increased demand in Japan and the rest of Asia. This vessel will be used in a Dachanghua offshore wind power generation project which will be developed by Orsted in Taiwan from 2022.
We will be exploring business areas to respond to the needs of the upcoming era and further strengthening building and sharing of our human and technical resources to contribute to growing the world economy and protecting the global environment.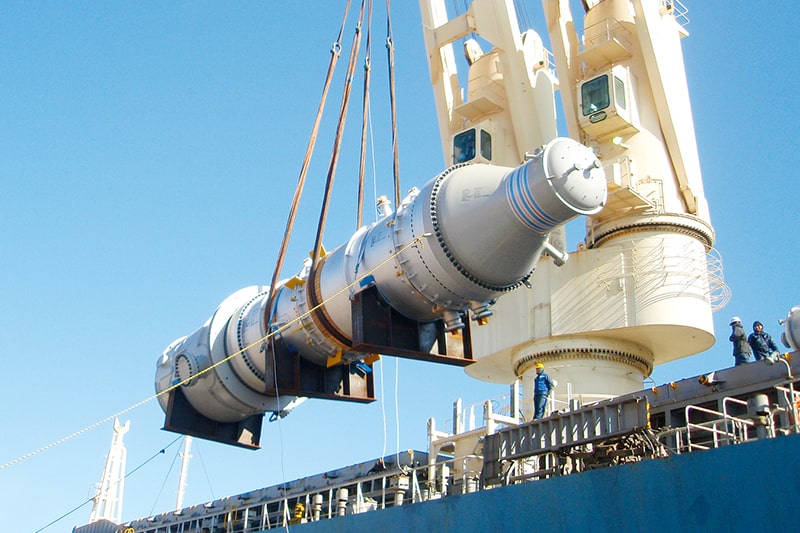 Heavy Cargo
MOL Project & Heavy Cargo
MOL Project & Heavy Cargo is the unified brand of MOL, providing heavy and oversized cargo transportation. MOL offers a door to door service covering every aspect, from marine, land, and air transportation to installation, under this brand.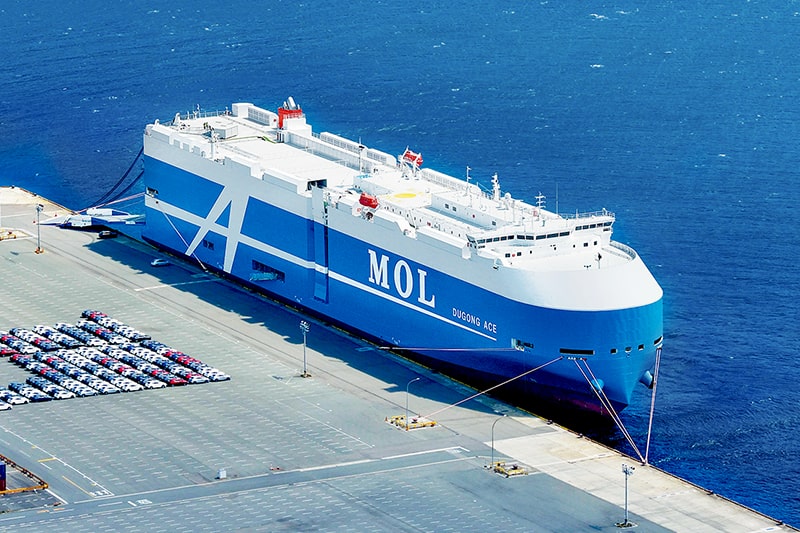 Car Carrier
MOL Auto Carrier Express
Our car carrier transport various type of vehicle including self-propelling cargo, such as automobiles and construction machinery, and non-self-propelling cargo loaded on trailers, through our global network of ocean routes supported by 140 office and agency sites world-wide.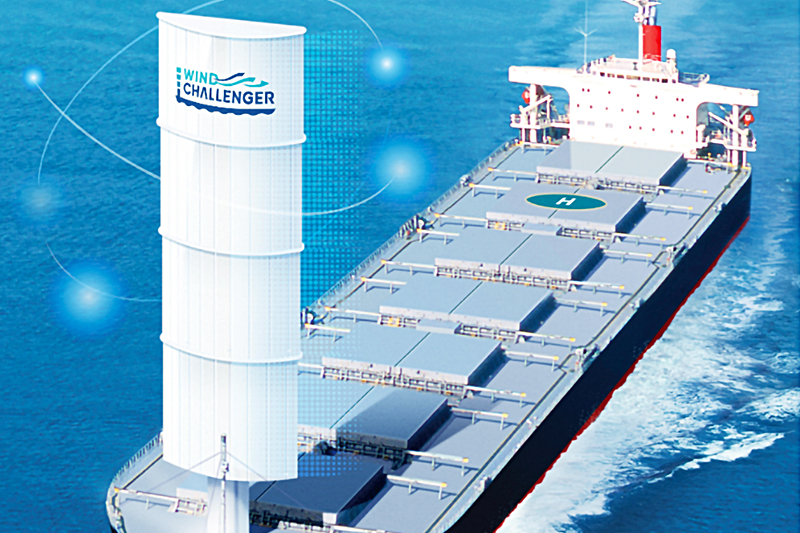 Wind Challenger
Wind energy is clean and unlimited. We aim to drastically reduce greenhouse gas emissions by converting wind energy to propulsion force for ships.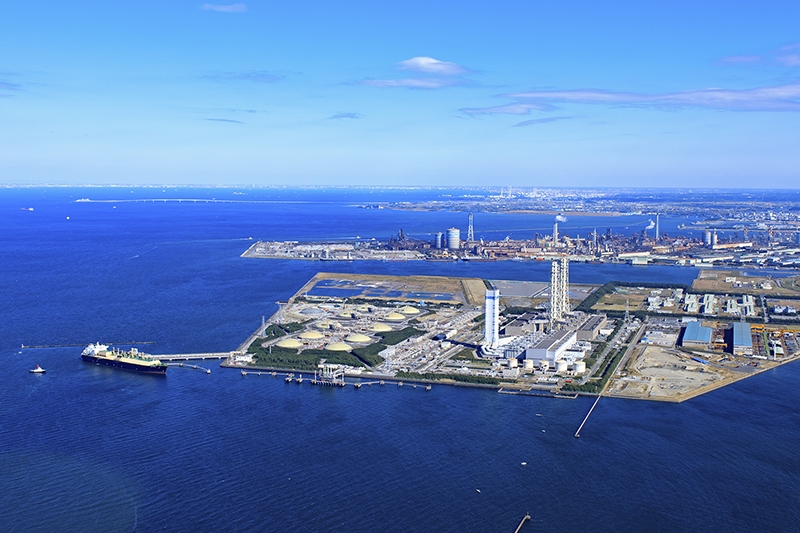 Marine Consulting
We provide maritime consulting services that are tailored to your changing needs in the maritime transportation and maritime logistics environment.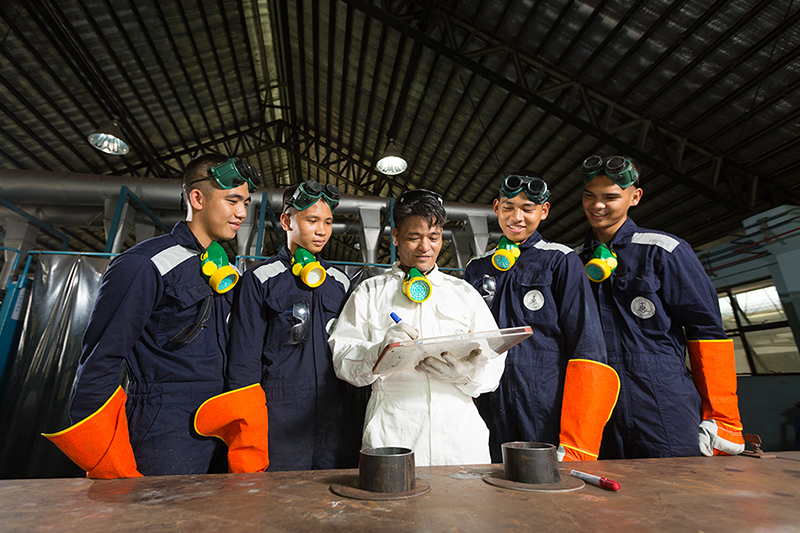 Maritime Education & Training
Our training programs have been designed based on our experiences spanning over 130 years. These programs are now offered to the wider industry to prevent accidents and to promote further growth of maritime transportation.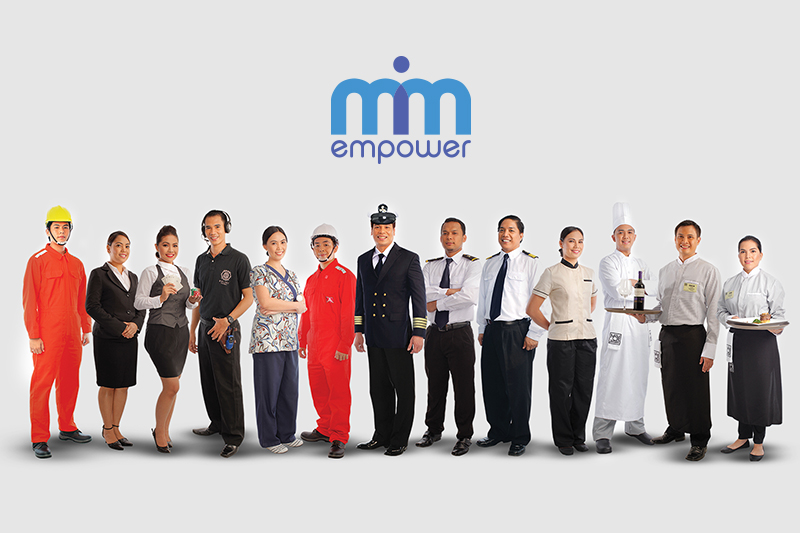 Global HR Consulting
Based on our experiences in training Filipino seafarers, we provide global human recourse consulting services including recruitment and educetion in a wide range of industries other than seafarers.