FSRU

Floating Storage and Regasification Unit
While demand for liquified natural gas (LNG) is increasing world-wide as an environmentally-friendly energy source, there is a special solution that enables using LNG at a low cost and in a short period of time. That solution is a Floating Storage and Regasification Unit (FSRU). Mitsui O.S.K. Lines (MOL) is the only FSRU owner and operator in Japan.
FSRUs by Mitsui O.S.K. Lines (MOL)
This page provides an overview for features of the FSRU and our FSRU-related solutions.
Regasification Facilities Floating on Water
FSRU stands for Floating Storage and Regasification Unit. Natural gas is cooled to approximately -160°C at the source of production to reduce its volume down to 1/600 for better transportation efficiency. This liquified natural gas (LNG) is transported across several thousand nautical miles on an LNG carrier. The LNG needs to be brought back to its gas state at the area of consumption. As an alternative to an LNG facility constructed on land, FSRU receives and stores LNG offshore. FSRU warms up LNG for regasification and sends it out as high-pressure gas according to the customer's demand. This solution is expanding in countries that are new to the LNG import market or need a fast track solution to meet increased demand for city gas and electricity.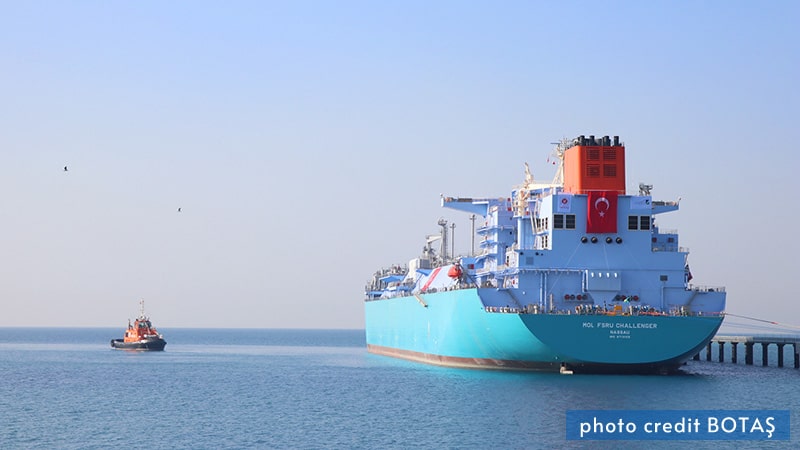 Full Range of Services for FSRU Deployment
For FSRU deployment, it is essential to select an appropriate project site based on meteorological and oceanographic (metocean) risk evaluations, and ensure that the overall LNG import terminal is designed to operate safely. Our rich experience in LNG transportation enables us to support customers during such early stages of the project and advise on topics such as feasibility study (FS), metocean analysis, and terminal basic design.
MOL's Value in FSRU Business
MOL provides value-added services to your FSRU project, utilizing our network and experience as a multi-modal transport company.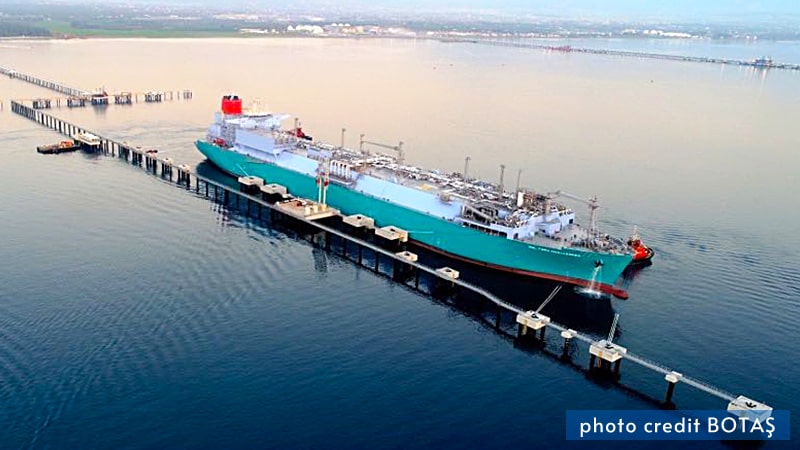 Providing Bespoke Solutions to the Project's Demand
Once a project starts operation, there are many tasks to carry out such as port arrangements for incoming LNG carriers calling the port, and operation & maintenance of the FSRU jetty (or mooring facility). MOL can cater such service demands utilizing our global network with port representatives and LNG transportation experience of over 30 years.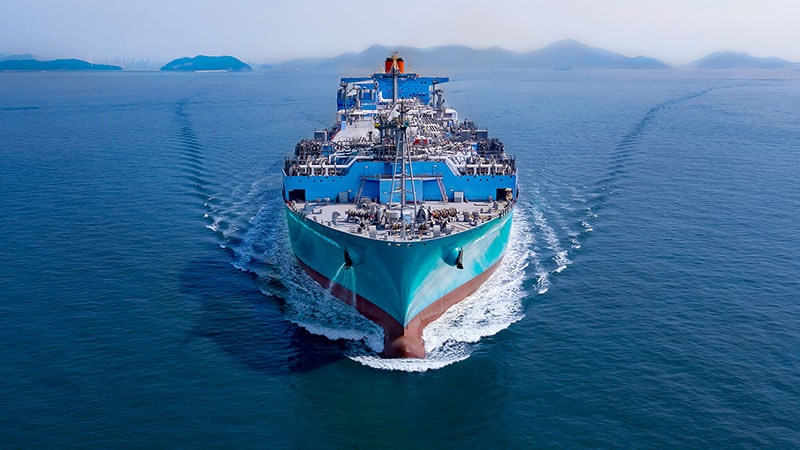 New Strategies for Optimized Operation
FSRU is a relatively new type of solution that was first introduced in 2005, which means further performance improvements can be expected. We are working on ways to improve FSRU performance and optimize operations building up on knowledge we have acquired through FSRU operations as the largest LNG carrier operator in the world and the sole FSRU owner and operator in Japan.
Cryo-Powered Regas
MOL is currently developing a new technology that reduces the environmental footprint of FSRUs with Daewoo Shipbuilding & Marine Engineering (DSME) of Korea. This technology named "Cryo-Powered Regas" will enable to utilize the cold energy of LNG, which used to be disposed, as power generation source. The system is targeted to reduce the fuel gas consumption and CO2 emission for FSRU approximately by 50%. The system itself is a proven technology that has been utilized in multiple onshore LNG terminals for around 40 years. However, MOL is the first in the world to receive AIP for adopting this system for FSRU.
Fleet Optimal Control Unified System (FOCUS)
As part of MOL's Fleet Optimal Control Unified System (FOCUS) Project, MOL and DSME are developing a cloud-based data platform that collects FSRU's detailed cargo and machinery operational data, and an application that utilizes such data for enhanced safety and efficiency on FSRU operation.
As FSRUs operate close to the shore, high-speed large-capacity data communications is possible unlike vessels operating in the open sea which have limited satellite communication. Through enhanced data accessibility from the shoreside, MOL intends to deepen synergy between FSRU and shore-based facilities for safer, efficient FSRU operation.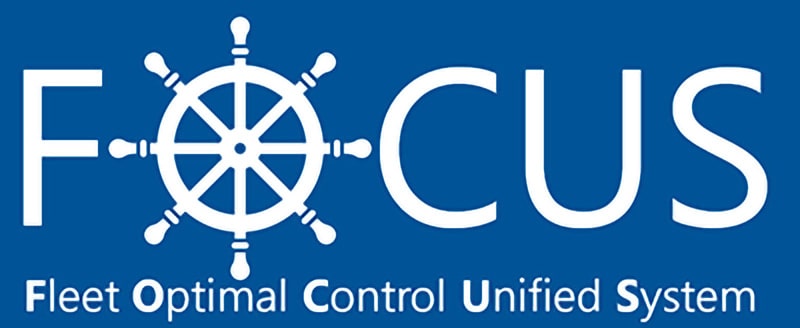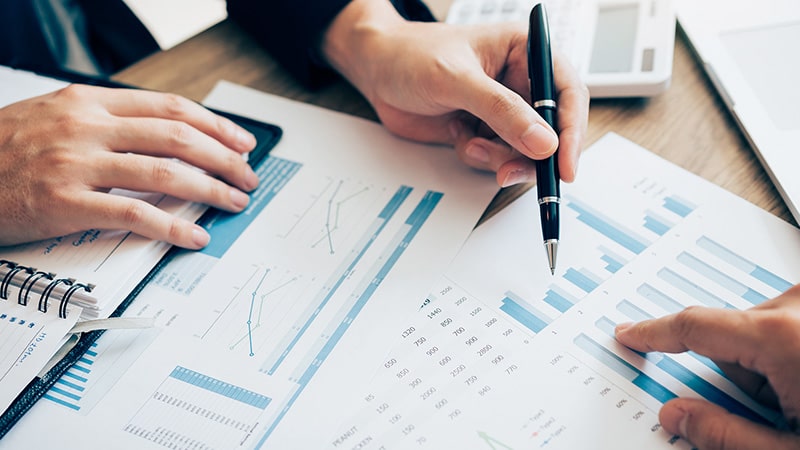 Securing Finance
We believe that fund raising capacity is key to providing price competitive services. In addition to full support from a number of financial institutions in Japan and abroad, we have a successful track record of securing necessary funds through various means including project finance, ESG and SDG purposed corporate bonds.In order to fulfil our long-term FSRU contracts with a solid financial foundation, we operate under strict financial discipline while expanding the scale of business.
Our Offices
Outside of our headquarters in Japan, our FSRU project team is spread around the globe with our regional head offices based in Singapore, UK (London) and USA (Houston).
Steps of FSRU Project Development
We provide comprehensive support for your FSRU project from preliminary study to actual operation of facilities. MOL intends to contribute to your project not through supply of a FSRU, but through various services built up on our extensive experience as a multi-modal transport company.
New Services Utilizing FSRU
MOL can meet a wide range of customer demand by combining FSRU with various services.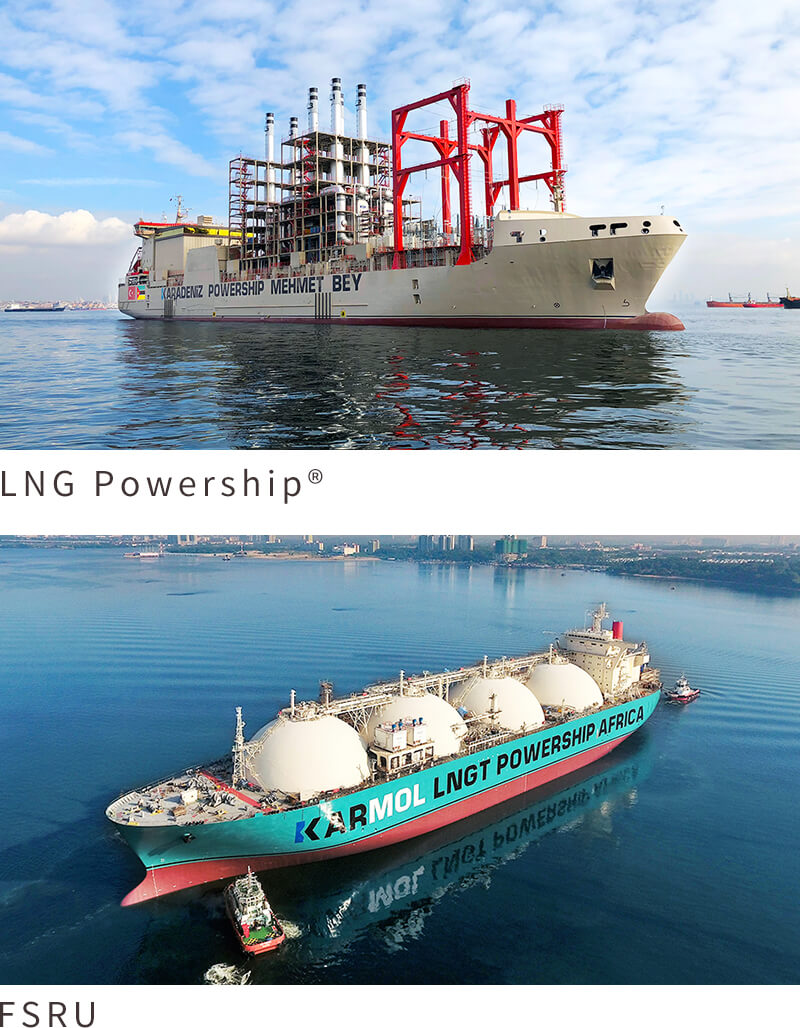 LNG to Powership®
One of our new business areas is the LNG-to-Powership® business. LNG-to-Powership® projects consists of the collaborative operations of the FSRU to deliver regasified LNG and the Powership® to receive regasified LNG in order to produce electricity, which is then transmitted to land. We are developing this business under the brand name of KARMOL with Karpowership, a Turkish company that is a pioneer of the Powership® solution.
Integrated Solution with LNG Transportation
MOL operates one of the largest LNG fleets in the world with a history of over 30 years of LNG transportation. We envisage providing an integrated solution which combines LNG transportation, our traditional strength, and small scale LNG vessel transportation, which is now showing increased demand in island areas, and with our FSRU and Powership business. We aim to provide stress-free services in the LNG value chain.
FSRU Facilities Owned by MOL
FSRU in addition to being an LNG carrier that can store LNG at -160℃ in its tanks, is also available to regasify LNG and send it out as high-pressure gas.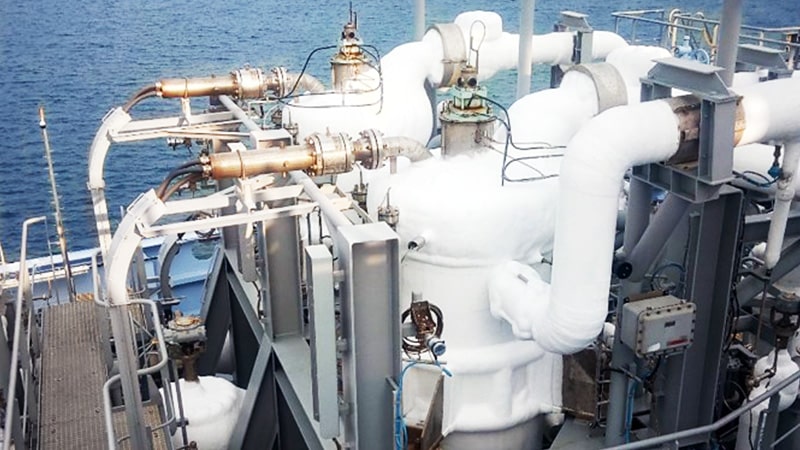 High-Pressure Pump
A high-pressure pump compresses LNG and feeds it to a vaporizer. The high pressure is generated by spinning the impellers. Its robust design enables stable operations at the ultralow temperature of approximately -160°C.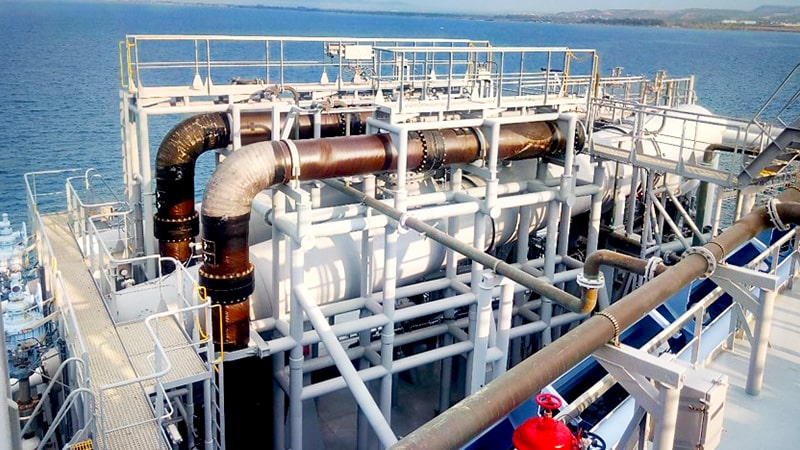 Vaporizer
The vaporizer regasifies the compressed LNG. Normal temperature sea water or antifreezing glycol is circulated around the piping for compressed LNG, and exchanges heat with compressed LNG to make it regasified.
White Paper
Download a white paper summarizing items to consider when deploying an FSRU including the mooring method and a comparison between building a new FSRU and modifying an LNG carrier.
Service Overview Materials
Download materials about our services including FSRU market trends and advantages of FSRUs over onshore terminals.
FAQ
Frequently asked questions and answers regarding FSRUs.
Glossary
Terms for FSRU facilities, features and principles of operation are explained here.
FSRU
Please feel free to contact us about our services including FSRU facilities and their deployment.
Contact
Contact us any with question or comment you may have.