MOL Carbon Desk

Our initiatives for Carbon Dioxide Removal
Given the limited remaining carbon budget to achieve 1.5 degree celcius target, we are taking initiatives to support the scaling of Carbon Dioxide Removal (CDR) from now, in addition to reducing the emission from value chain.
The decisive decade
– Our future depends on actions we take in this decade
According to the Synthesis Report of the Intergovernmental Panel on Climate Change (IPCC) Sixth Assessment Report, Human activities, principally through emissions of greenhouse gases, have unequivocally caused global warming, with global surface temperature reaching 1.1°C above the pre-industrial level in 2011-2020. If the annual CO2 emissions between 2020–2030 stayed at the same level as 2019, the resulting cumulative emissions would almost exhaust the remaining carbon budget for 1.5°C, and deplete more than a third of the remaining carbon budget for 2°C. This is why the 2020s is called the decisive decade and our future depends on actions we take in this decade.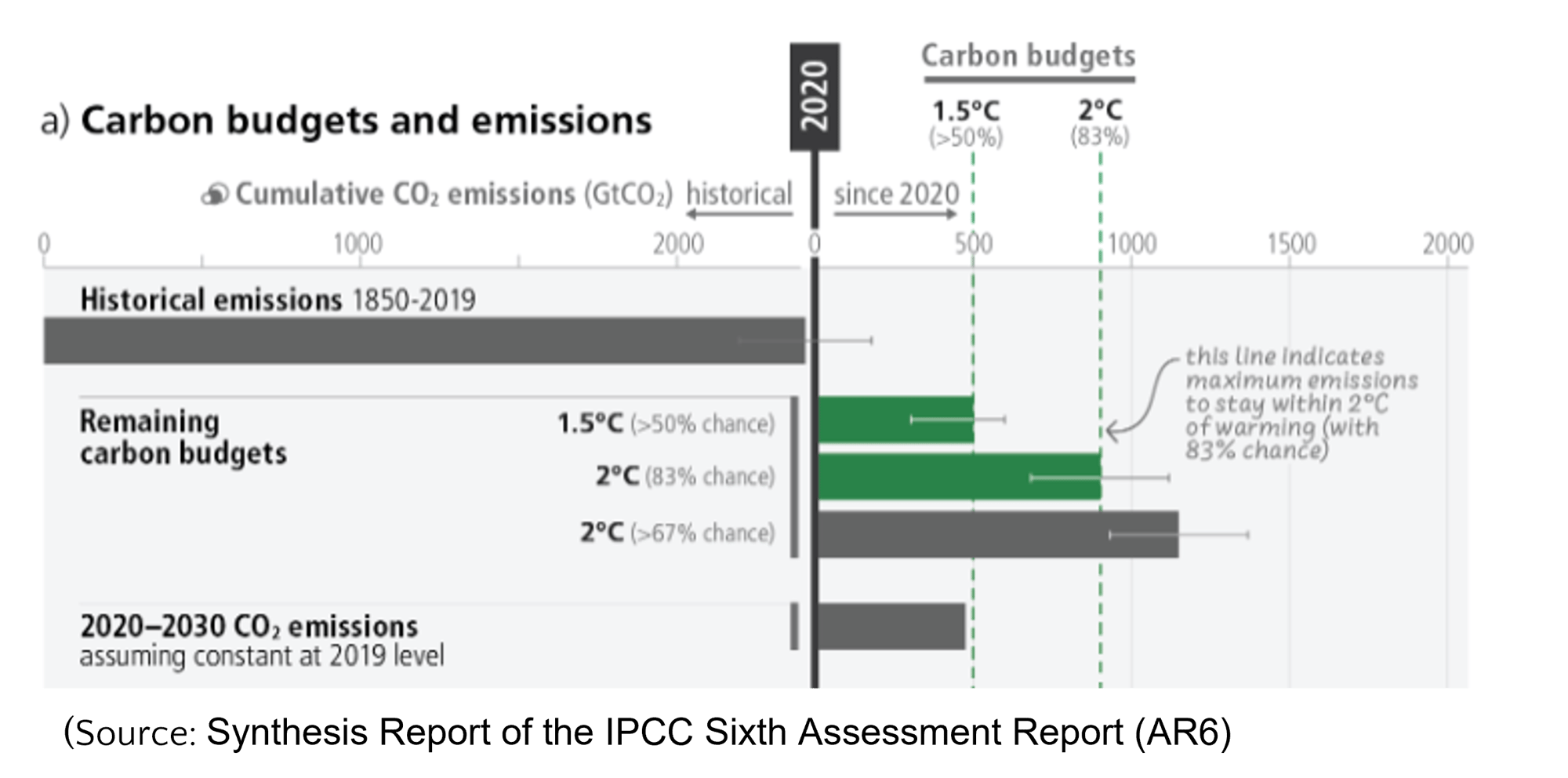 Raising the ambition – thinking beyond our own value chains
Corporate net zero targets rightly focus on rapid reductions in scope 1, 2 and 3 emissions. But in line with the mitigation hierarchy, corporate net zero guidelines, by such as Science Based Target Initiatives, the United Nations and International Organization for Standardization (ISO), nowadays strongly recommends that companies contribute to societal net zero: thinking beyond their own value chains when decarbonizing. With the limited remaining carbon budget in mind, we therefore have started supporting the scale up of Carbon Dioxide Removal (CDR) to contribute to the mitigation actions beyond the value chain (BVCM) while reducing emission from own value chain. Numbers of companies that build BVCM into its corporate strategies are still limited and we are proud of being one such few among the hard-to-abate sectors.
The importance of Carbon Dioxide Removal (CDR)
in achieving the Paris goal
Reaching net zero CO2 or GHG emissions primarily requires deep and rapid reductions. However, some hard-to-abate residual GHG emissions (e.g., some emissions from agriculture, aviation, shipping, and industrial processes) remain and would need to be counterbalanced by deployment of CDR methods to achieve net zero CO2.
By 2050, nearly 10 billion tonnes of CO2 may have to be removed from the atmosphere annually, according to the median estimates of several of the IPCC's net-zero scenarios.

From mid-century onwards, CDR will continue to play an important role to reverse the accumulation of historic emissions.

But CDR market is still in its infancy and its supply volume is limited today. As a member of the industries that will need the CDR the most in the future, we think it is important to be a part of the efforts to scale up CDR massively.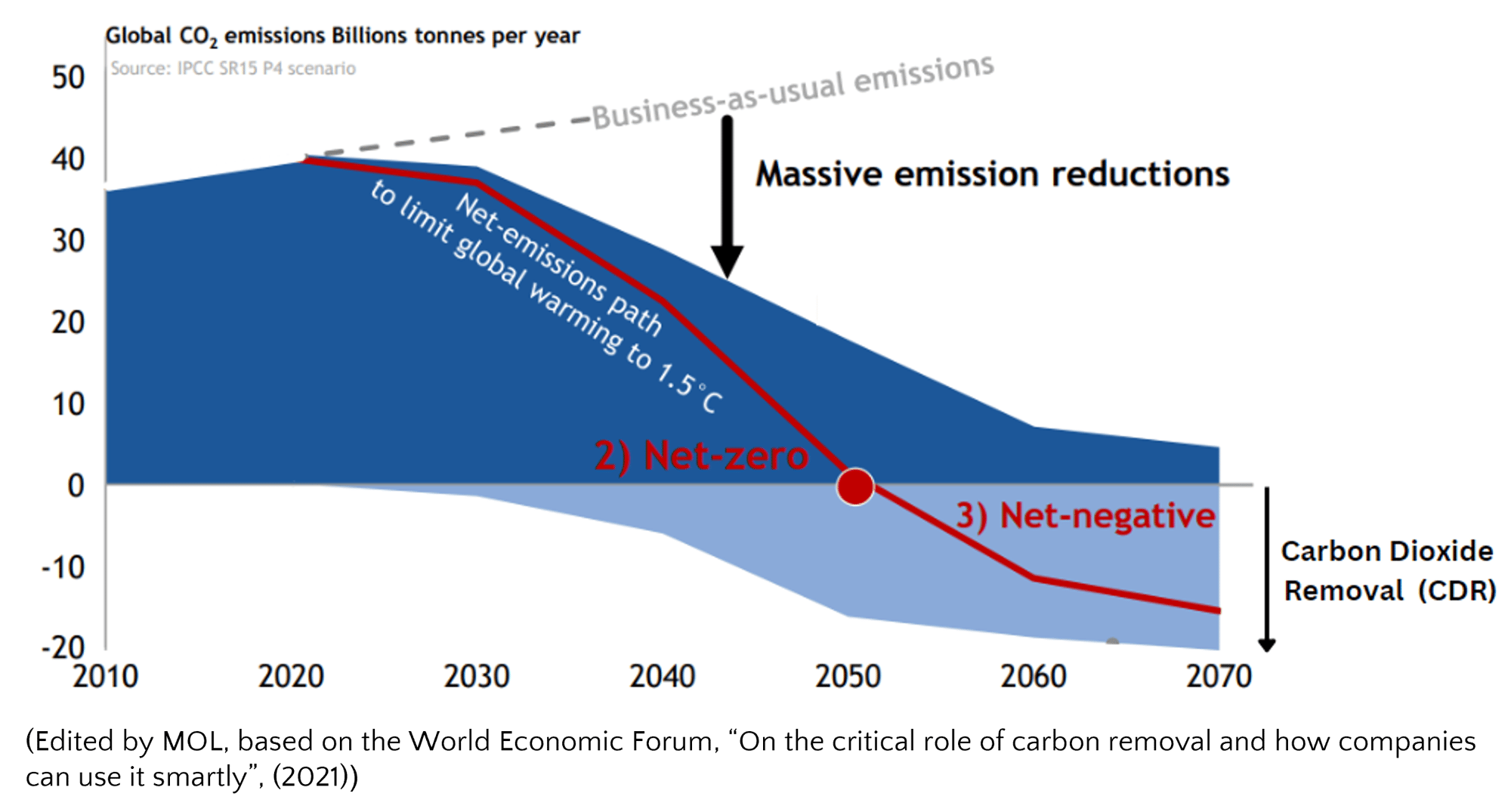 A typology of Carbon Dioxide Removal
Carbon dioxide removal can be grouped into two broad categories: Nature-based Solutions and Technological Solutions. We are proactively involved in both solutions.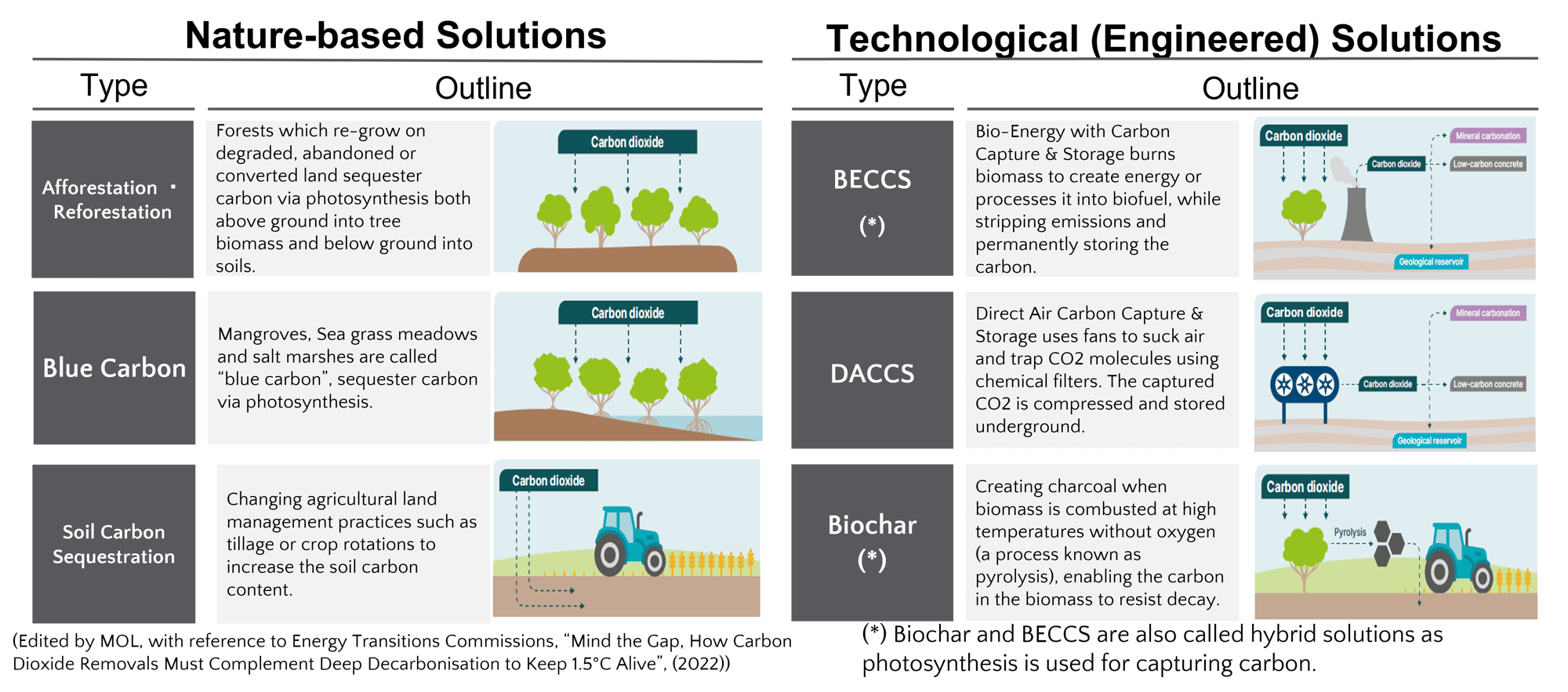 Nature based solutions – Restoring the mangrove ecosystem in Indonesia
Since January 2022, we have been participating in a blue carbon project aimed at restoring and conserving mangroves in South Sumatra, Indonesia. The project aims to reduce CO2 emissions by about 5 million tons through forest conservation activities and to absorb/store another 6 million tons of CO2 through afforestation of mangroves and other plants on about 9,500ha of bare land in the next three decades. We also adopt "the Silvofishery", a method of aquaculture, to improve the livelihoods of local residents through sustainable fishery and forest management, aiming to create a society where people live in harmony with nature.
| | |
| --- | --- |
| Project Partner | YL Forest Co., Ltd. |
| Project Area | OKI Prefecture in South Sumatra Province, Indonesia |
| Area size | Total 23,500 ha (Afforestation – 9.500 ha & Conservation 14,000 ha) |
| Expected Impact | 11 millions tons of CO2 avoided/stored over the project period (30 years) |

Technological Solutions – Participating in NextGen CDR Facility & First Movers Coalition
We are one of the founding buyers of NextGen CDR Facility and a member of the CDR sector of First Movers Coalition where we commit to purchase at least 50,000 tons of CDR credits 2030.
Why do we act now for Technological solutions that are still very expensive in today's market? – To meet the required amount of CDR needed by the society in the future, Nature based Solutions alone is not enough and Technological solutions need to scale. But Technological solutions cannot scale and will not be avaiable when we need them if everyone just waits for its price to drop down. With an awareness of such challenges, we will act as a first mover and contribute to innovation and cost reduction of underfunded elements of nascent technologies.

Planning for the Future of Carbon Dioxide Removal with Carbon Direct
To help achieve our ambitious net zero by 2050 goal, Mitsui O.S.K. Lines selected Carbon Direct to develop a multi-decade carbon removal strategy.
We have been working with Carbon Direct to examine our emissions reduction curve against science-based targets and develop an emission-mitigation hierarchy based on our 2021 emissions profile—starting with the reduction of Scope 1 emissions. While transitioning to lower-carbon fuels will help to facilitate more than 90% of emissions reductions by 2050, we still anticipate residual emissions that will need to be removed. Meeting that multi-megatonne demand requires that we help to build the carbon removal market first.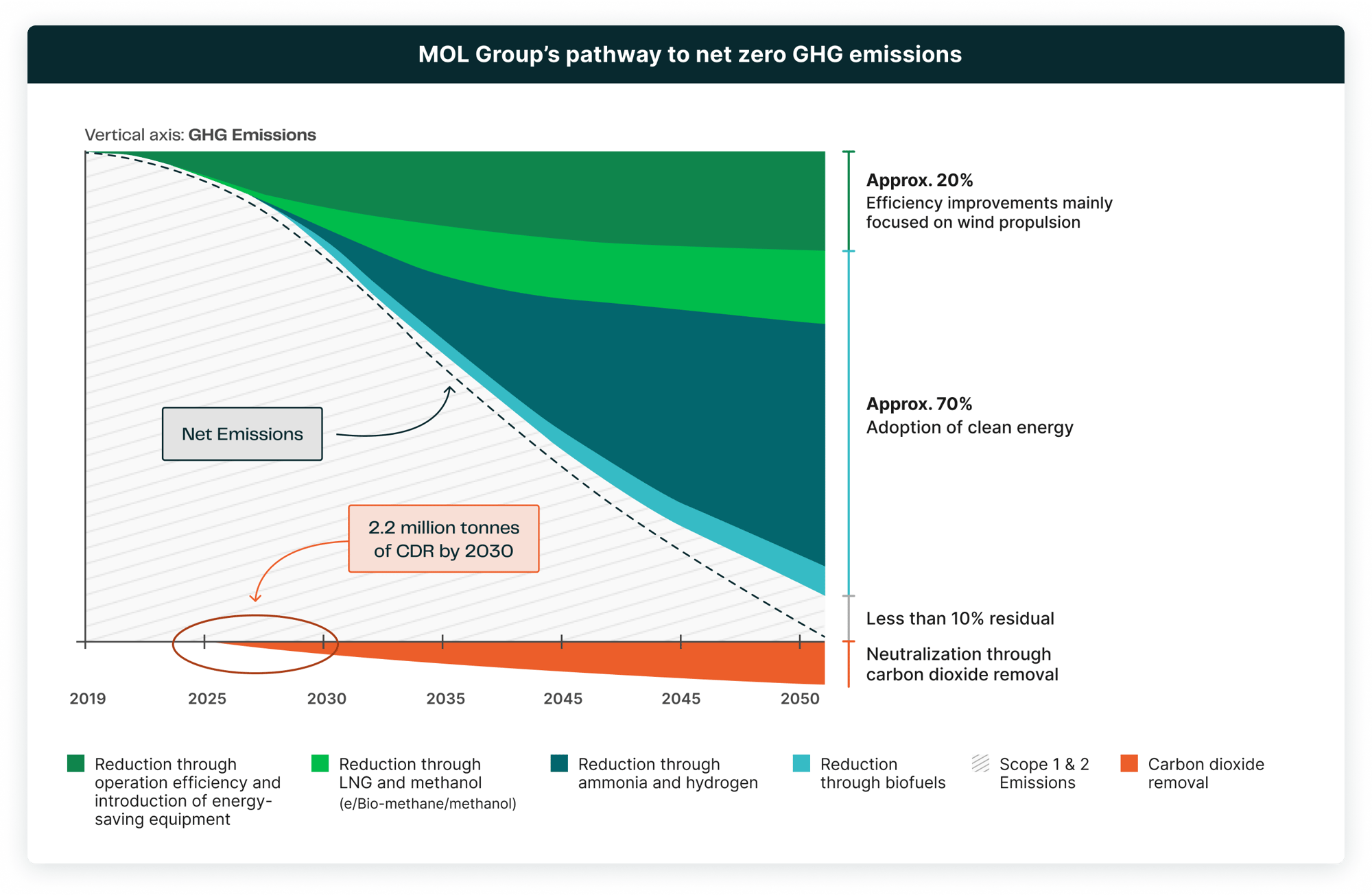 Carbon Direct's team of experts developed a comprehensive carbon removal strategy that helped us understand how the carbon removal landscape will evolve over time and how to establish purchasing timelines based on quality criteria and technological maturity. Looking ahead, as we work to address our own emissions, we hope that by mapping our climate action journey we can help to shift the maritime transport industry as a whole.