Heavy Cargo

MOL Project & Heavy Cargo
Mitsui O.S.K. Lines (MOL) provides optimal solutions for marine transportation needs, supporting transport of heavy and oversized cargo with multi-purpose vessels, while encompassing a broad range of associated services, including customs clearance, land transportation and equipment installation.
Heavy Cargo Transportation by Mitsui O.S.K. Lines (MOL)
MOL is your door-to-door heavy cargo transportation supplier with comprehensive logistics services to meet all your needs, offering not only marine transport, but air transport, customs clearance, warehousing, land transport, and equipment installation as well.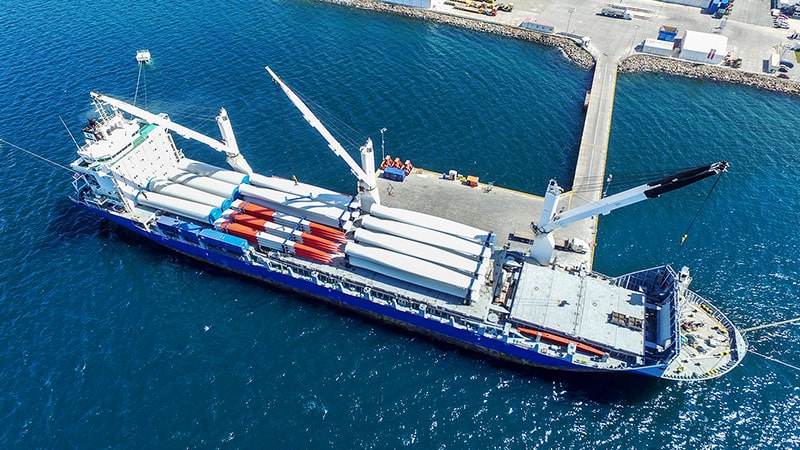 MOL Project & Heavy Cargo
The MOL Group established an integrated brand, MOL Project & Heavy Cargo (PHC), in 2015 to cater to the expanding needs for heavy and oversized cargo transportation. We offer door-to-door services featuring optimum transportation utilizing a wide variety of vessel types, as well as vanning, coastal and inland transportation, customs clearance, and equipment installation.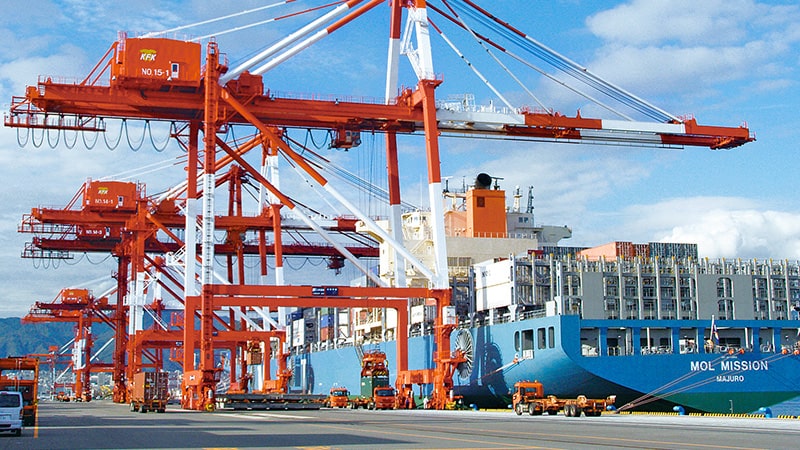 Diverse Services
MOL continues to strengthen and expand our logistics business as we consider logistics business to be one of our key strategic businesses.
Our group companies provide logistics services globally from our network of 257 sites in 27 countries, with each company leveraging its own strengths. The diversity of services encompasses marine transport, air transport, land transport, customs clearance, warehousing, inspection, heavy cargo transport, and more. We have recently strengthened our services by expanding our network to regions that are expected to have further economic growth, including Southeast Asia and Africa.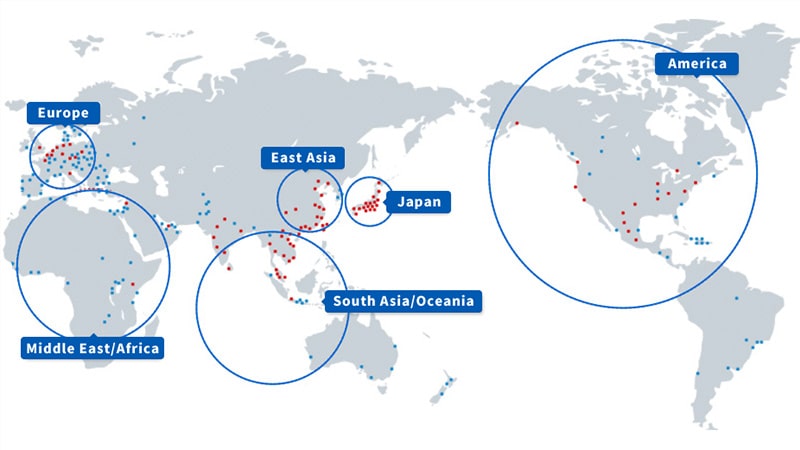 Vessels and Equipment Owned by MOL Group
Various equipment is used in addition to ships when transporting and installing special heavy cargo.
Here we introduce some unique equipments, from those that flexibly accommodates a variety of cargo types to those that perform specialized tasks.
TRIUMPH Series: Heavy Cargo Ships
MOL Group introduced six multi-purpose vessels, the Triumph series, with a total crane capacity of 150 tons (78 tons x 2) in September 2013. These address the diversification of project cargo loading sites in Asia and the Middle East, and enable flexible and regular services in waters between the two areas.
Multi-Axis Modular Trailer: Super Carrier
MOL Group have several modular trailers with three to five axes, allowing any combination of number of axes.
With a load capacity of 45 ton/axis, the number of axes and rows is determined according to loading considerations (risk of falling and stability), depending on cargo weight, size and the location of the center of gravity.
We also perform a trajectory analysis by reviewing interference with obstacles along the transportation route. Wheels have 360-degree turning capability. Translation movement and rotation of the entire vehicle without shifting the center position are also possible, allowing the vehicle to operate through narrow turns. The hydraulic suspension has a stroke of ±350 mm, which enables maintaining the horizontal position of the load while transporting it on a slope or on rough terrain within the stroke amount.
Hoisting Equipment: Super Table Lift
Super Table Lift boasts one of our largest hoisting capacities with 300 tons at maximum. Its horizontal load bearing capacity is 20% of its vertical load bearing capacity.
Each of the Super Table Lift's four double-acting jacks can provide stable hoisting action even with different loads for different jacks. They can also be coordinated with a central controller. When used to build a bridge, the bridge is loaded and transported on the Super Carrier at a low position, and jacked up to the target height to install and adjust the bridge.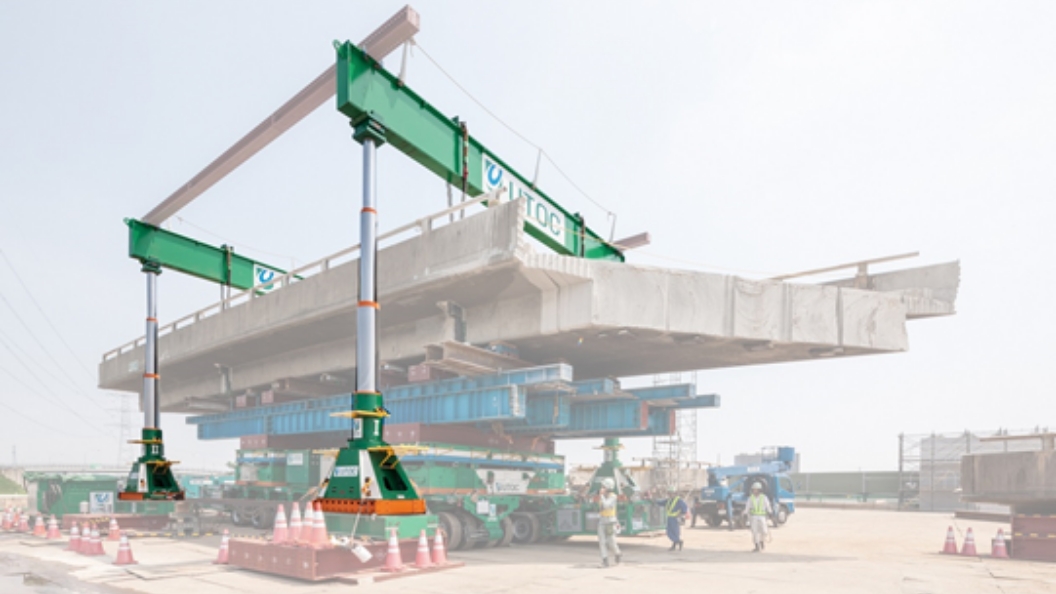 Lifting Equipment: Super Lift
The Super Lift's maximum lifting capacity is 702 tons for a one-gantry type and 1,404 tons for a two-gantry type, with a maximum stroke of 7.8 meters. These configurable gantry cranes are capable of loading, unloading, and installing heavy cargo.
New Product Development: MOL COILPORTER®
MOL COILPORTER® is our new securing system that secures steel coils for automobiles and other products when transported in containers. Our Group shared customers' requests with the development team, which resulted in this MOL COILPORTER® boasting ingenuity in the details. This has replaced conventional heavy carpentry work required by skilled workers with kits that can be assembled using light materials, enabling anyone to secure the steel coils easily and safely.
(Patented under No.6650255. Other patents are pending.)
Heavy Cargo Transportation Workflow
MOL Group provides a total package of multi-modal services for the safe transport of your heavy and oversized cargo, including planning optimum transportation methods, investigating transportation routes, customs clearance, installation, and maintenance.
Case Studies for our Heavy Cargo Transportation (MOL PHC)

MOL Project & Heavy Cargo Service Overview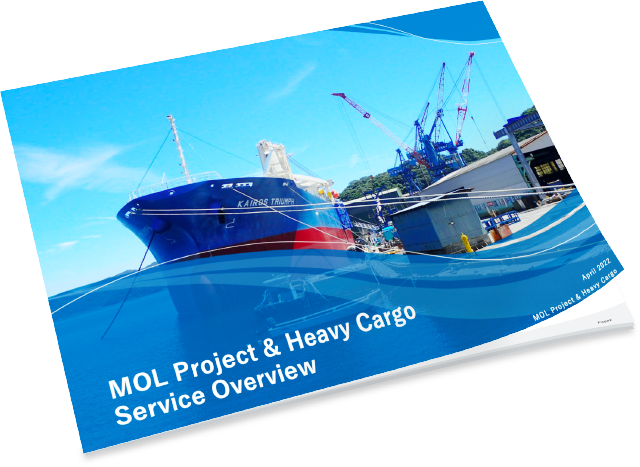 Download service materials overviewing the capability of MOL Project & Heavy Cargo (MOL PHC), including our fleet and equipments and introduction of our group companies.


MOL ACE Services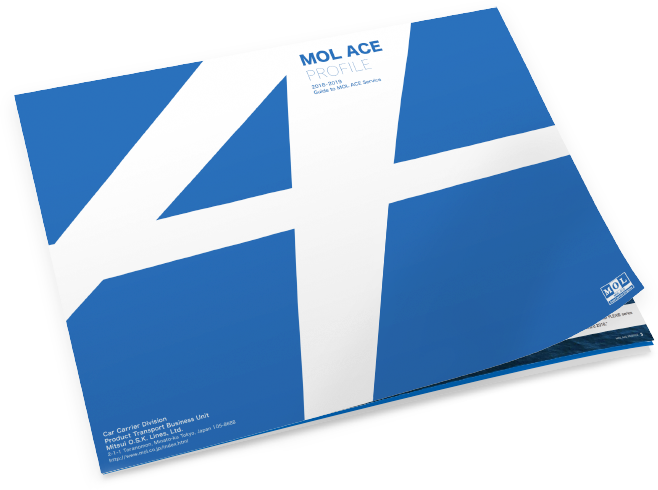 Download service overview materials about our top-quality services including our group brand (MOL ACE), our car carrier (FLEXIE), and our transport routes.

FAQ
Introducing frequently asked questions and answers about our heavy cargo transportation (MOL PHC).
Glossary
Terms for heavy cargo transportation facilities and basic knowledge are explained here.