Car Carrier

MOL Auto Carrier Express
We, MOL Auto Carrier Express, belive the essence of ocean transport is to add value to products and services, not simply to collect ocean freight from customers and carry automobiles, trucks, construction machinery and so on. We also aim to design optimum services not only for the parties of ocean transport business but for society and consumers. We always commit to deal with various challenges in ocean transport around the world.
Mitsui O.S.K. Lines (MOL) Car Carriers
MOL's car carrier services transport a variety of cargos to locations all over the world.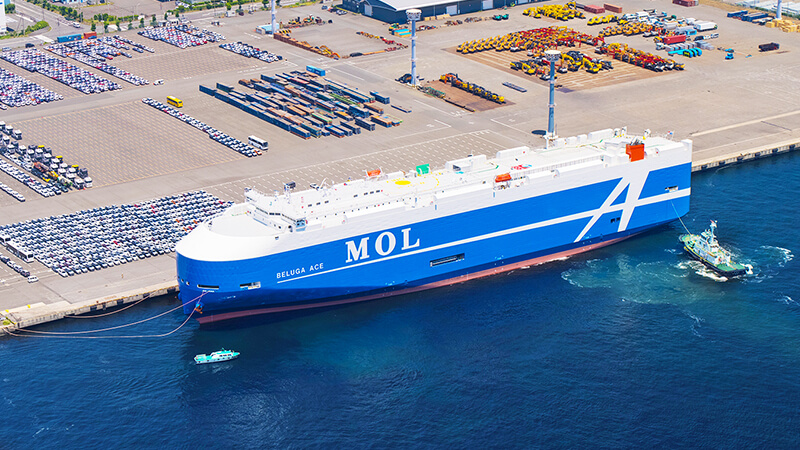 What are Car Carriers?
Car carriers are specially designed ships to transport various type of vehicles from passenger cars to large vehicles such as construction machinery. They can also transport non self-propelling cargo by using trailers or forklifts. The inside of car carrier is like a multilevel parking garage. The height of decks for large vehicles can be adjusted in accordance with the height of the vehicles.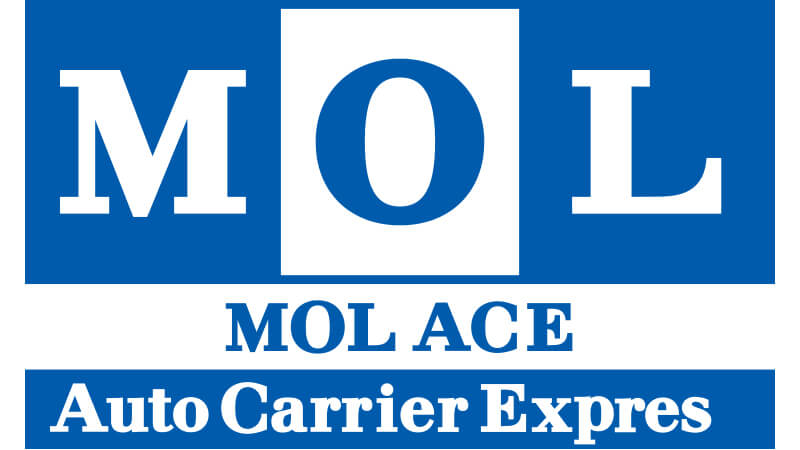 MOL ACE Brand
MOL Auto Carrier Express (MOL ACE) is the MOL Group's unified global brand for its car carrier services, providing high quality, safe, and reliablility ever since we launched Japanese first car carrier, Oppama Maru, in 1965. MOL meets to a diversity of customer needs under this unified brand.
ACE, the brand name including in the name of our car carrier vessel, represents our determination to further expand into the global market while pursuing initiatives on the forefront of environmental protection and new technologies.
Strengths of MOL Car Carrier Services
MOL is a pioneer in car carrier services in Japan and we continue to improve our services through constant endeavours. The three key strengths of our services as noted by many clients are described here.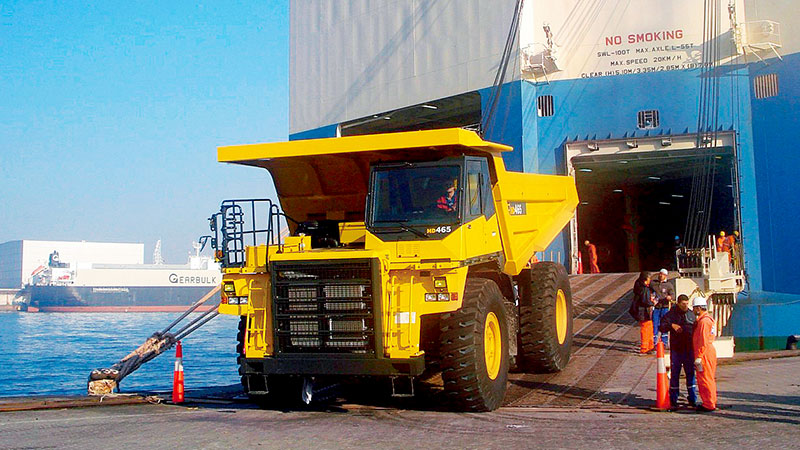 One of the World's Largest Car Carrier Fleets
The MOL Group operates approximately 110 car carriers as one of the largest car carrier operators in the world.
Moreover, we transport automobiles, trucks, construction machinery and non-self-propelling cargo loaded on trailers to any port through our global network.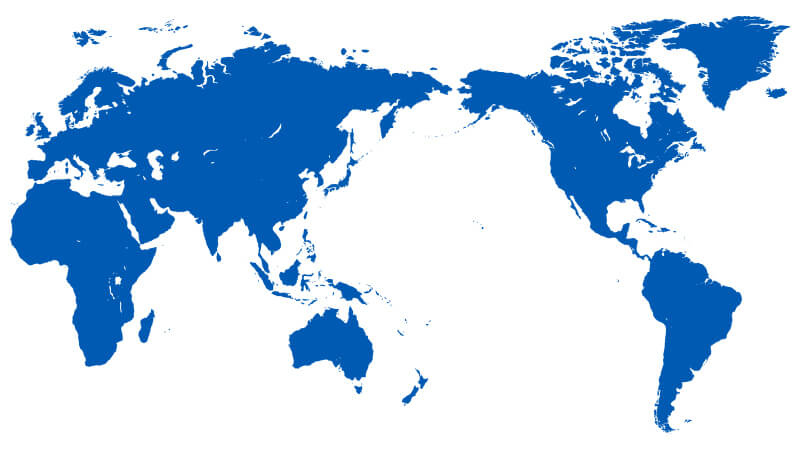 A World-Wide Network of Our Office
We have sales and agecy offices in approximately 140 countries around the world to support our car carrier operations, one of the largest in the world. Four sites in Japan, USA, Germany and Thailand are designated as Area Management Offices. They manage MOL ACE sales offices in each area for smooth collaboration and information sharing.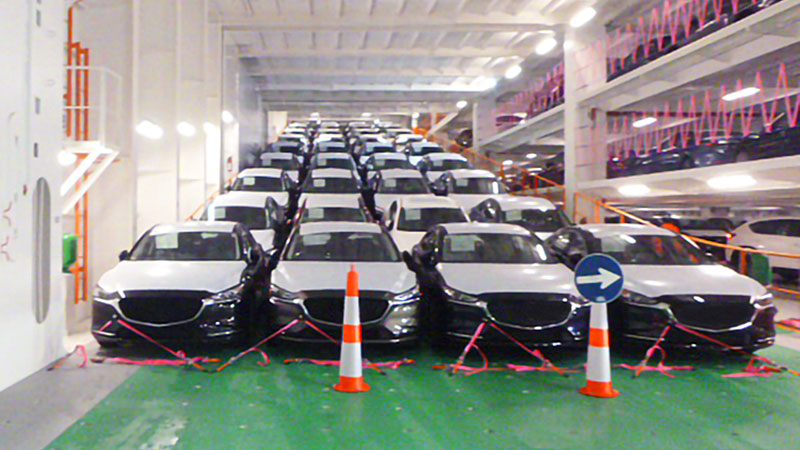 Advanced and Sophisticated Cargo Management
Many activities are carried out to transport your cargo safely. All of us are committed to improve transport quality through activities to minimize accidents that may occur during loading and unloading cargo such as contact and collision, and to prevent damage due to pitching and rolling of vessels during voyage.
MOL ACE Car Carriers: FLEXIE Series
The FLEXIE series are MOL ACE's flagship car carriers that were launched in 2018 to meet to the diversification of our customers' needs. They are a completely new generation of car carriers, with cutting-edge features both in hardware and software. The hull was renewd with a bold look, featureing the letter "A", and white line, which express our determination to connect its long history of customer service to the future in a seamless manner.
FLEXIBLE Carriers are More Functional with a Brand-New Exterior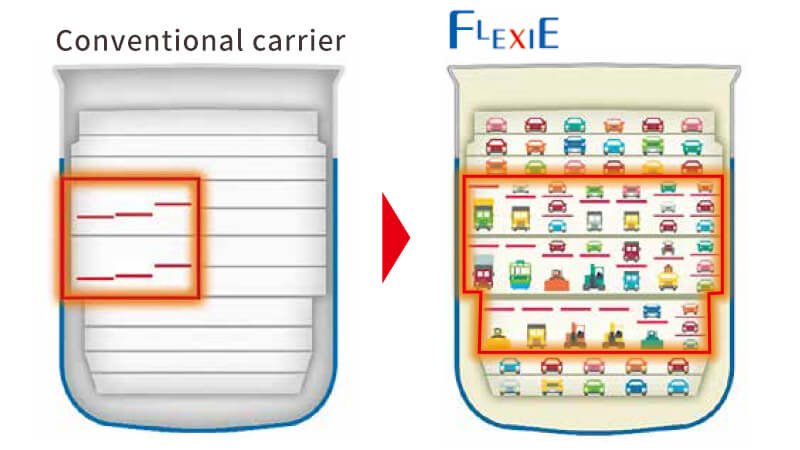 Major Changes to Deck Structure
The space on liftable decks, with movable floors and ceilings, has been increased 2.5 times, and the number of decks has been increased from 12 to 14. Loading efficiency has been improved by 6.25% compared to the previous generation of car carriers. These decks can be adjusted according to the size and condition of vehicles, accommodating different loading scenarios. The two-level liftable structure enables a tall deck with a total ceiling height of three levels.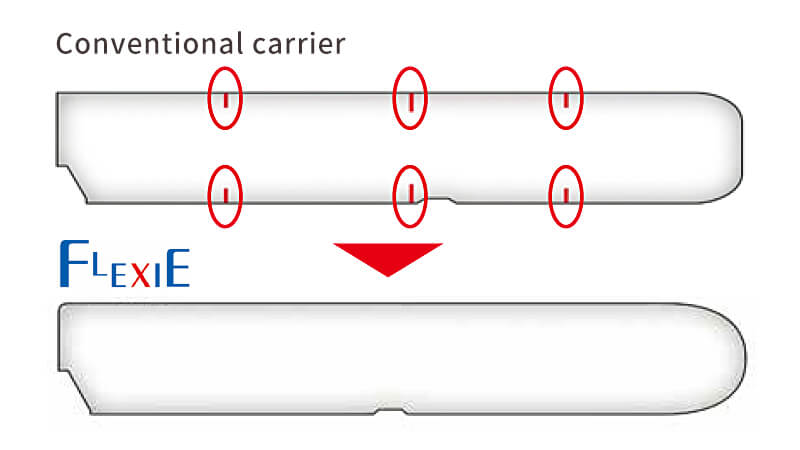 Bulk Headless Structure
After review of the ship's structure, we enhanced the overall strength, resulting in a bulkheadless structure with a significantly reduced number of bulkheads compared to conventional carriers. This eliminated obstacles and provided a long span of visibility, making loading and discharging operation safer and more efficient.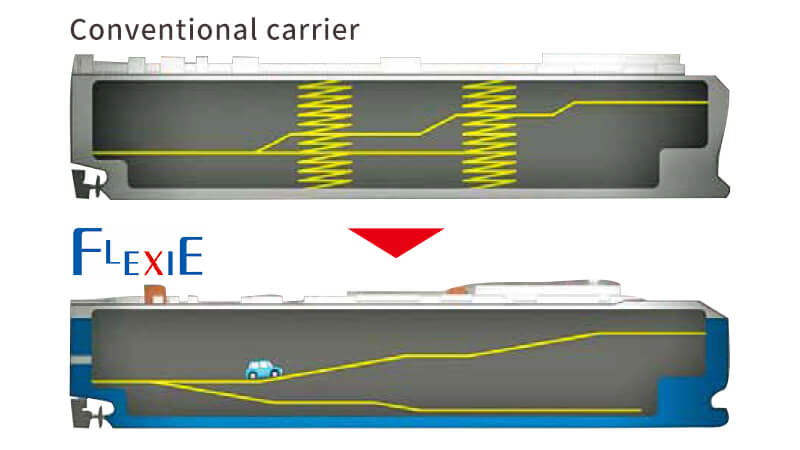 Long and Straight Slope
Spiral routes for moving between decks in conventional carriers have been modified into long and straight slopes. This enabled a straight drive up to the upper deck, improving loading and discharging operation efficiency, and reducing the risk of making accidents.
Cutting-Edge Energy Saving Technologies have been Applied to the Entire Carrier, From Ship's Structure to Engine, to Make the Carrier Ecologically Friendly.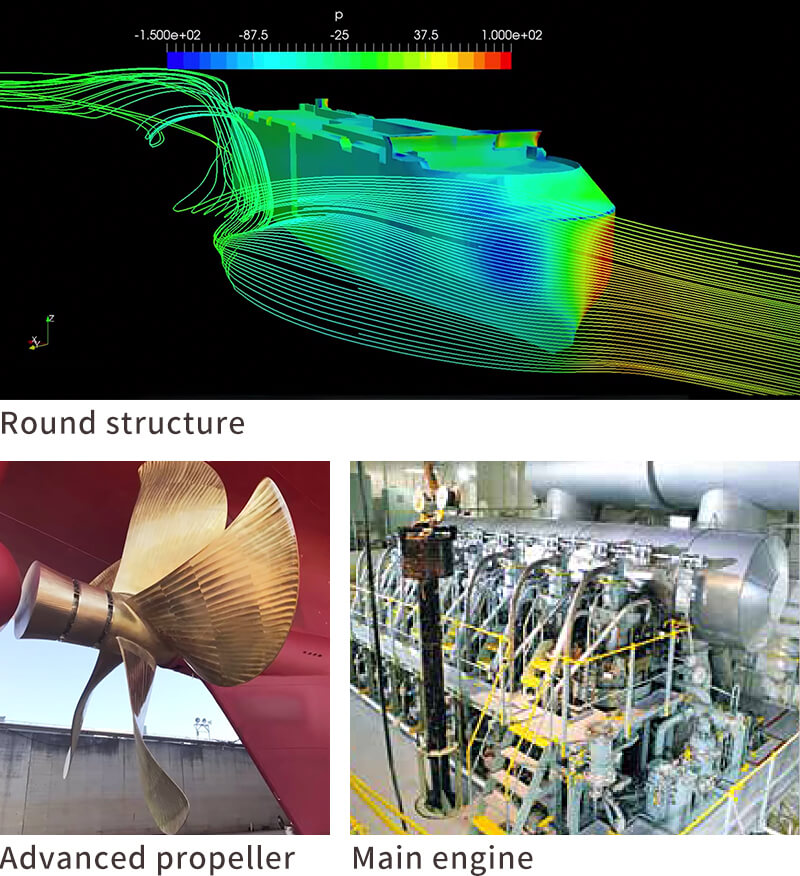 Four Technologies for an Environmentally-Friendly Carrier
Streamlined body reduced wind resistance
Improved paint underwater reduced water resistance
Advanced propeller optimized water flow improved propulsion efficiency
Cutting-edge technologies incorporated to the main engine improved fuel efficiency and reduced exhaust gas
Advanced ecological technologies reduced CO2 emissions by 13.7% per transported vehicle.
Most-Advanced IoT Technologies are Incorporated Throughout the Carrier, Ensuring a Safe and Secured Carrier
Steering Support Using AR
AR is an advanced lookout function employing IoT. Navigational information of surrounding ships is displayed on AR monitor in real time to visually support risk prediction. We are planning to incorporate image recognition technology in the future to assist the captain and navigation officer, improving safety and dependability of the navigation.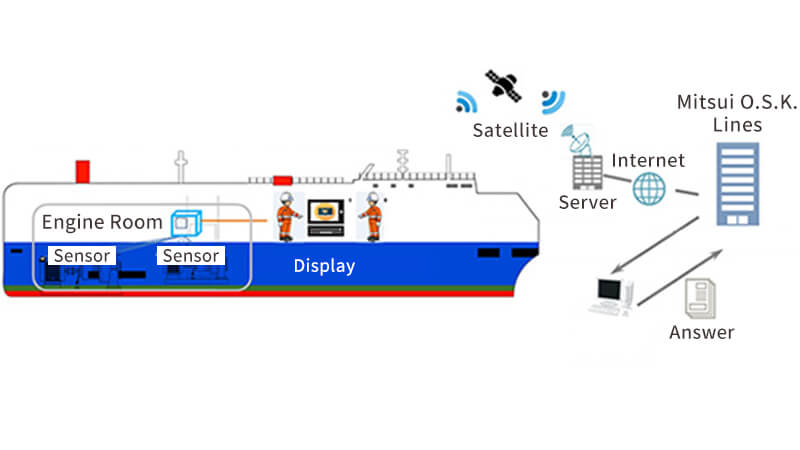 Vibration Diagnostics Using Sensors
Potential problems with devices are predicted with sensors before they actually occur so that maintenance can be performed before navigation has to be halted due to equipment issues. We incorporate the ultimate safety measures to prevent troubles before they occur.
The Only Winner of Two Industry Awards:
"Ship of the Year 2018"
"2018 Good Design Award"
BELUGA ACE is the first of FLEXIE series of carriers. She was awarded Ship of the Year 2018 and 2018 Good Design Award for achieving both functionality that employs advanced technologies and sophisticated body design. This major achievement was a first in our industry: one ship, two awards!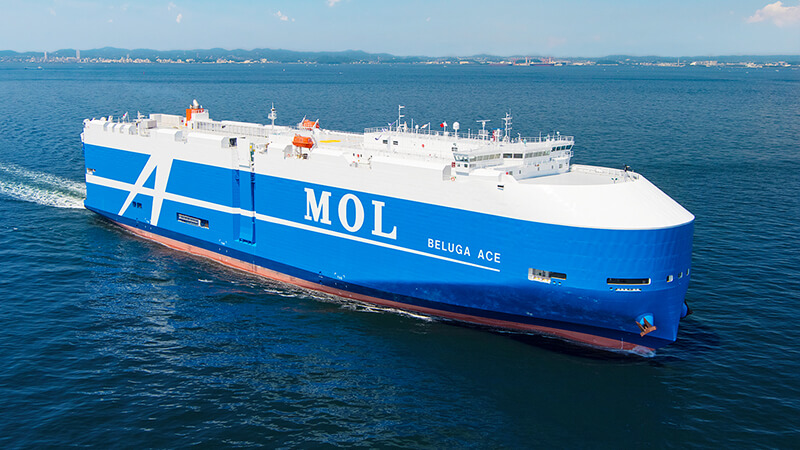 Service Overview Materials (Car Carrier)
Download service overview materials about our top-quality services including our group brand (MOL ACE), our car carrier (FLEXIE), and our transport routes.
Flow From Consultation to Transportation
It is important to make various adjustments to meet each client's requests regarding everything from the time of shipment to securing a cargo space. The following illustrates the flow of various activities from consultation to the completion of transportation.
Case Studies for Car Carrier Services
FAQ
Introducing frequently asked questions and answers about car carrier services.
Glossary
Explanations of terms concerning car carrier services, their facilities and related basic knowledge.
Car Carriers
Please feel free to contact us about our car carrier and associated services.
Contact
Contact us any with question or comment you may have.