The introduction of renewable energy and the development of new energy sources such as hydrogen and ammonia are accelerating in the EU, the U.S., Japan, and other countries and regions aiming to become carbon neutral (CN) by 2050. Various initiatives are now underway around the world to achieve CN, with synthetic fuels one option being closely investigated.
What is e-fuel?
Synthetic fuels are those that are artificially generated from carbon dioxide (CO₂) and hydrogen (H₂). As with petroleum products commonly used today, e-fuel is a collection of hydrocarbons that can be used to produce gasoline, kerosene, and other fuels according to their intended use.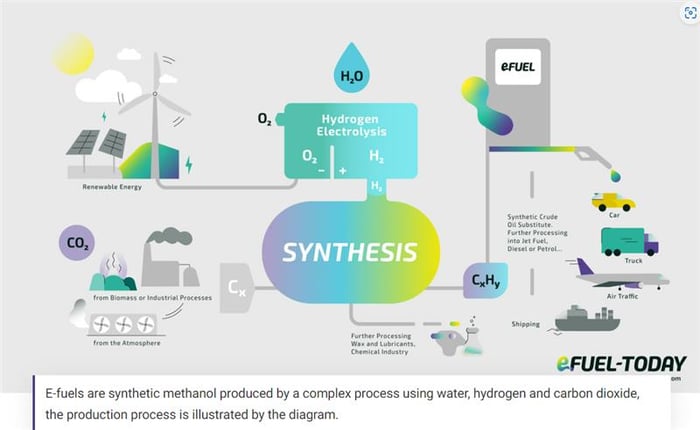 Manufacturing process of synthetic fuel
Source: Agency for Natural Resources and Energy
The CO₂ required to produce synthetic fuels is currently generally emitted from power plants and factories, but in the future, it is envisioned that the atmosphere will be used as the resource to provide CO₂, using Direct Air Capture (DAC) technology. This recycling of CO₂ offsets emissions from fuel use and can be regarded as a zero-emission fuel.

In addition, e-fuel is expected to be used as a zero-emission fuel by aircrafts, ships, and especially automobiles, because of the following characteristics:

①High energy density and quick energy filling
②Supply chain can be established by utilizing existing infrastructure.   
③Liquid at normal temperature and pressure
Challenges facing e-fuel
e-fuel is expected to be used in various industries, but it faces several challenges it needs to overcome to reach commercialization. According to the PwC Report, the following six challenges have been identified: (1) raw material procurement; (2) securing supply and improving productivity; (3) quality assurance; (4) transportation and storage; (5) use and sales; and (6) impact on vehicle performance.
①procurement of raw material
According to assets of the Ministry of Economy, Trade and Industry, the cost of e-fuel is estimated to be about 300 yen/L if the raw materials are imported from overseas, and about 700 yen/L if all the raw materials are produced domestically. As the H₂ procurement price accounts for about 90% of this amount, the e-fuel price will depend greatly on the hydrogen price. Since hydrogen must be derived from renewable energy sources to be defined as e-fuel, a stable and inexpensive hydrogen production and supply infrastructure are key to facilitating the spread of e-fuel.

However, the current retail price of gasoline is around 180 yen/liter and, excluding various taxes such as consumption tax, gasoline tax, and petroleum and coal tax, is around 110 yen per liter. So even if the price of hydrogen becomes much lower than the current price, it will still be expensive compared to existing fuels.
②Securing supply volume and improving productivity
In addition to the procurement of raw materials, efficient production technology (yield) must be improved in order to produce a large amount of e-fuel in a stable manner, and a large-scale production process must be demonstrated as soon as possible.
③Quality assurance
While the quality of existing gasoline and other products is regulated by the "Law Concerning Assurance of Quality of Gasoline, etc.," the quality of e-fuel has not yet been formulated. In order to distribute a large volume of gasoline in the market, equivalent rules must be established.
④Transportation and storage

When transporting and storing e-fuel, it is expected that existing gas stations and other infrastructure will be used.
⑤Use and sales
For the time being, the price of e-fuel is expected to be higher than that of existing fuels, while the price of EVs is getting cheaper year by year. Under these circumstances, incentive policies such as subsidies and tax breaks will be required to promote the use of e-fuel fueled vehicles and vessels.
⑥Impact on driving performance
Since e-fuel differs from existing fuels in octane rating and heat capacity, its impact on driving performance and environmental performance needs to be assessed.
Trends in e-fuel in Japan and overseas
- Japan -
The Japanese government aims to commercialize e-fuel by 2040 and is supporting technological development through the Green Innovation Fund and the New Energy and Industrial Technology Development Organization (NEDO). The project will be implemented with a 120 billion yen budget from FY2022 to FY2030.

In addition, Japanese companies such as Idemitsu Kosan and ENEOS have concluded strategic partnerships with companies that manufacture e-fuel overseas, with the aim of manufacturing and promoting e-fuel in Japan.

- China -
There are several e-fuel projects underway in China, but they are small in scale and so far there have been no significant developments.

- Europe -
Most of the major commercial-scale e-fuel projects currently underway are concentrated in Europe. Nordic countries, in particular, have a high share of renewable energy worldwide, and they are actively pursuing policies related to hydrogen and e-fuel production in order to reach the CN 2050 goal. In addition, with the Ukraine conflict heightening the debate on energy security, there are moves in Scandinavia to build an energy export industry in addition to introducing renewable energy in their own countries.
Along with a large amount of hydrogen, it is also important to secure CO₂ as a carbon source for the production of e-fuel, and the Nordic countries are working together to develop the technology. Among the Scandinavian countries, Denmark has a specific national strategy for e-fuel (The Government's Strategy for Power-to-X), and since hydrogen and electrolysis technologies are traditional research fields in Danish companies and at the Technical University of Denmark, the government has been developing commercial strength in Power to X. The government's strategy for Power-to-X is to support a new technology sector that has the potential to reduce domestic GHG emissions and, like wind energy, to be exported, while leveraging the commercial strengths of Power to X.

Source: The Government's Strategy for Power to X
Currently, 36 green hydrogen facilities are in operation throughout the Scandinavian region, with an additional 64 projects reportedly scheduled to be launched between 2022 and 2030. The current green hydrogen production capacity in the region is 13,000 tons per year and, based on ongoing projects, the total production capacity will reach over 2.1 million tons per year by 2030, which is expected to increase the supply of e-fuel.
The Future of e-fuel
As a carbon-neutral fuel, e-fuel has many advantages for use in automobiles, aircrafts, and ships. However, compared to existing fuels, e-fuel has a number of issues in terms of cost and energy efficiency, and technical and economic support is required for its widespread use. On the other hand, in order to efficiently use electricity from solar and wind power plants scattered around the world, Power-to-X, which converts electricity that is not suitable for storage or transportation into energy carriers, is important for the expansion of renewable energy introduction that developed countries, especially in Europe, are aiming for. E-fuel could be a promising solution.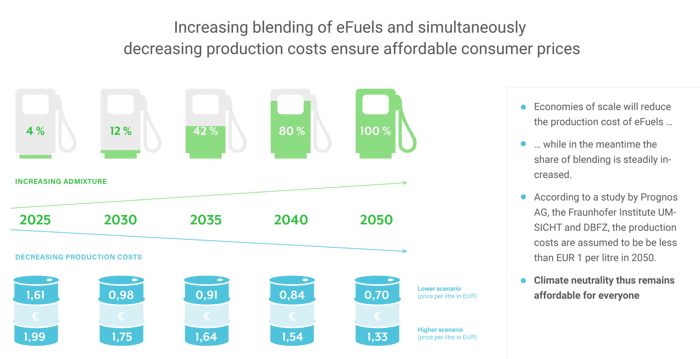 Source: Fuel market - eFuel Alliance (efuel-alliance.eu)
In order to realize a decarbonized society, the shipping industry is working to commercialize alternative fuels to the current heavy oil usage, such as LNG and methanol. E-fuel is a further option. Mitsui O.S.K. Lines (MOL), which has one of the world's largest fleet of vessels, is actively working to develop and introduce next-generation fuels and contribute to the reduction in carbon dioxide emissions during transportation.