Japan's automobile exports have been in full swing since the latter half of the 1950s, and currently more than 4 million vehicles are exported annually. The Pure Car Carrier (PCC) is a specialized vessel developed to safely and efficiently transport cargo (mainly finished cars) in response to the increasing export of automobiles.
PCCs do not carry only passenger cars, but also all types of self-propelled cargo such as trucks, buses, and tall cargo such as construction and agricultural machinery.
History of automobile transportation
Before the advent of dedicated car carriers, finished cars were loaded and unloaded one by one on conventional cargo ships by crane. Loading and unloading by crane was time-consuming and labor-intensive, and the cargo was often damaged by shaking during loading and unloading and during the voyage. Therefore, cargo owners and Mitsui O.S.K. Lines(MOL) carried out joint research into roll-on/roll-off (RORO), in which cargo is unloaded by a self-propelled vehicle, and a completely new system concept was realized. In October 1965, MOL built the 16,155 DWT Oppama Maru, the first ship in Japan to be equipped with cargo handling equipment exclusively for automobiles.

The Oppama Maru had 5 levels of car decks and could stack automobiles 6 high. The total number of cars which could be loaded was 1,200 and the ship could load 100 cars per hour into the hold (previously, this number had been about 15 cars per hour), dramatically shortening cargo handling time and significantly reducing cargo damage. The Oppama Maru was equipped with an onboard crane and was classified as a Car Bulker because it carried automobiles on the outbound voyage from Japan and wheat and other grains on the return voyage from the U.S. to Japan.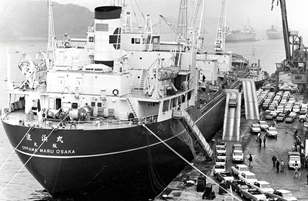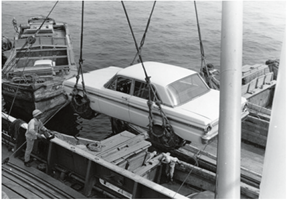 Left: Oppama Maru; Right: Cargo handling on a conventional cargo ship
In 1971, just six years after the construction of Japan's first RORO vessel, the Oppama Maru, a dedicated car carrier, the Kanada Maru, was built. With a loading capacity of 2,000 cars, it was capable of loading 250 cars per hour.

Car carrier "Kanada maru"
Today, PCTCs (Pure Car and Truck Carriers) which can carry 6,800 units of small passenger cars are the mainstream, and car carriers continue to evolve day by day.
Hull structure of a car carrier
The hold of a car carrier is a multi-layer deck, which looks like a "three-dimensional parking lot" floating on the sea. The car are driven up shore ramps to enter the ship, and then driven down the inner ramps between each level to its loading area. A car carrier has a unique appearance with a square or semicircular bow above the draft (drydock), as the car runs on the deck inside the ship.

1) Multi-layered deck structure
Large ships have a multi-layered deck structure with 12 to 14 layers, which enables them to carry a large amount of cargo. In addition, environmental factors and the special nature of the cargo (damage liability) are taken into consideration.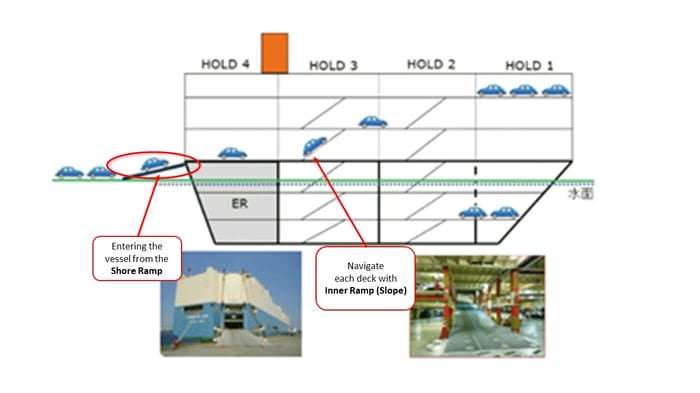 Hull structure of a car carrier
2) Flooding and Fire Prevention Compartments (Gas Tight Door, Water Tight Door)
Compartments are provided to prevent flooding and fire from spreading in the event any trouble occurs.

3) Liftable deck
The height of some decks can be changed to accommodate large trucks and construction equipment other than passenger cars. 1 deck is divided into about 30 panels and operated by a lift car.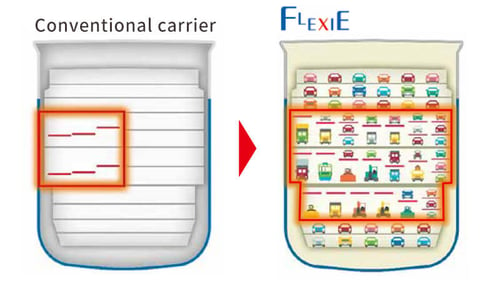 4) Inner Ramp (Slope)
An aisle is used for vehicles to move and load between multiple decks, with a ramp angle of 10 degrees.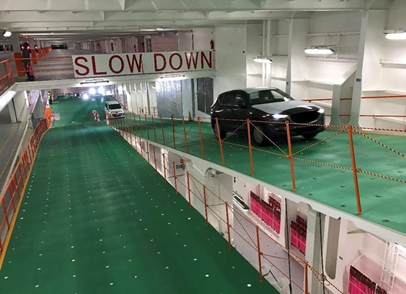 5) Shore Ramp
A shore ramp is a bridge that passes between the quay and the vessel and allows cars to be driven onto and off the vessel for loading and unloading. The ramp is part of the ship's hull, and it is designed to accommodate the height of the quay wall at Kanda Port in Fukuoka prefecture, the largest port in Japan.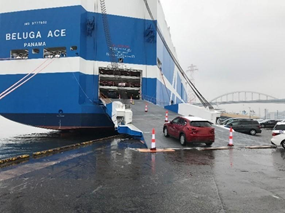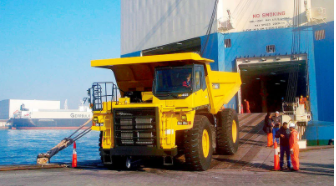 Vehicles loaded from a shore ramp
6) Lashing facilities
Lashing points are provided on each deck for fastening vehicles. Vehicles loaded on the vessel are lashed (tightly bound) using lashing belts to prevent them from moving during the voyage.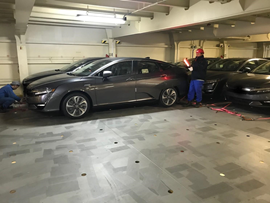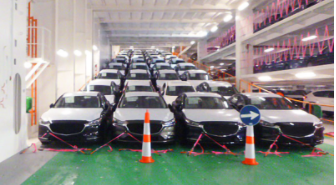 Vehicles fastened with lashing belts
7) In-hold ventilation
Ventilation is provided not only during the loading and unloading of cargo but also during the voyage itself, to expel exhaust fumes from vehicles during loading and unloading and evaporating gasoline fumes in the hold during the voyage.

8) Firefighting equipment
Early detection and initial extinguishing of fires is extremely important should an accidental fire break out, such as in the event of a vehicle collision or an electrical fault in the hold. For this reason, the ship is equipped with a fixed fire extinguishing system, portable fire extinguishers, and fire detectors.
Features of MOL car carriers
Next-generation car carrier "FLEXIE"

In March 2018, the "FLEXIE" series, a next-generation car carrier, joined our company fleet. The "BELUGA ACE" was the first such ship and the 4th and final ship has now been completed.

The FLEXIE series increased the number of liftable decks from 2 to 6 to accommodate high-car-height cargoes such as construction machinery, improved cargo handling efficiency, and reduced damage to cargoes by installing new giant ramps and eliminating bulkheads (that form compartments within the ship) in the hull structure.

In addition, by reviewing the shape of the bow and stern and adopting low-friction paint, we have achieved a significant reduction in CO2 emissions. The "FLEXIE" series received the Good Design Award 2018, sponsored by the Japan Institute of Design Promotion (JDP). This is the first time in nine years that the award had been given to the shipping industry, and MOL's FLEXIE series was the only one to receive an award from the shipping industry that year.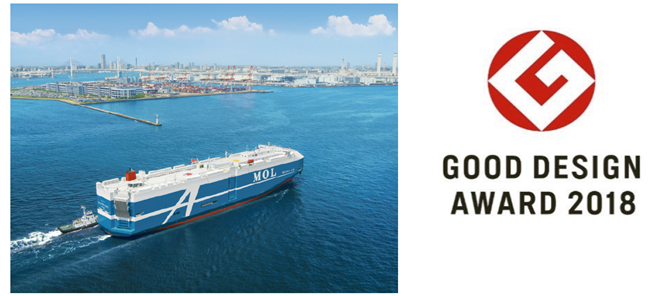 The "FLEXIE" series received a Good Design Award 2018.
Safe Operation Measures utilizing Cutting-Edge technologies
The "FLEXIE" series introduced cutting-edge technology to realize safer and more reliable marine transportation. MOL continues to evolve the design of car carriers to this day


Steering support by AR Utilizing

Internet of Things (IoT) technology, we have advanced our navigational surveillance, visually supporting the detection of danger by displaying navigational information in real time using AR technology. We have also introduced radar information and image recognition technology.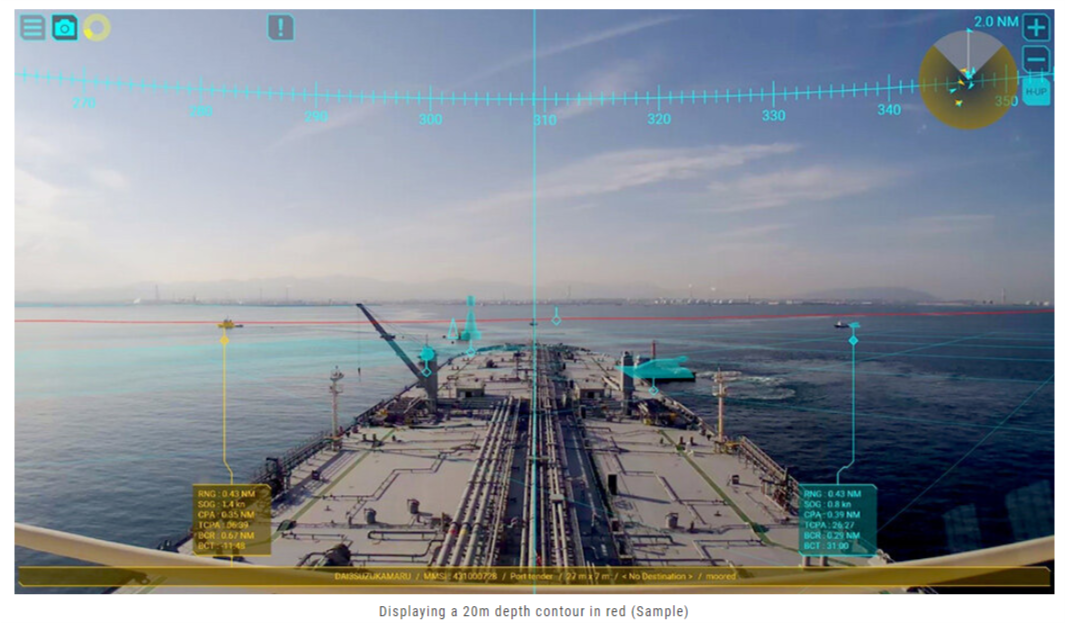 Vibration diagnosis by sensors

Sensors are used to detect problems with each piece of equipment before they occur, and maintenance is carried out before problems leading to a suspension of operations takes place. Containing any problems before they occur is the ultimate safety measure.

Environmentally Friendly Efforts
The "FLEXIE" series is an eco-friendly ship that uses our latest energy-saving technology from the hull form to the engine to reduce environmental impact. Measures include:
・Streamlining the shape of the Panamax hull to reduce wind resistance.
・ Reducing the seawater resistance by improving the hull paint used under the water surface.
・ Optimizing water flow with an improved propeller design to improve propulsion efficiency.
・ Equipping the engine with the latest environmentally friendly energy-saving technology to improve fuel efficiency and reduce emissions.

We have succeeded in reducing CO2 emissions per vessel by 13.7% through these initiatives (compared to conventional ships).

As part of its on-going efforts to reduce GHG (greenhouse gas) emissions, MOL is conducting various studies from a medium- to long-term perspective with a view to introducing alternative fuel vessels in the future.
MOL car carrier service "MOL ACE"
MOL Auto Carrier Express (MOL ACE) is a globally unified brand for the MOL Group's car carrier transport services, designed to respond to the diversified needs of our customers. MOL ACE is committed to providing high-quality, safe, and reliable services, and uses its global network to market its services. The car carriers operated by MOL ACE are known by the name "ACE", which symbolizes the company's advanced exploration of new technologies and environmental protection measures along with its more traditional values. MOL ACE is emblematic of the company's determination to further expand its presence in the global market.

MOL ACE has sales offices and a network of agents in about 140 countries worldwide which support the operations of one of the world's largest car carrier fleets (95 ships in the entire group as of March 2021). Five bases in Japan, the U.S., Germany, Thailand, and China manage MOL ACE sales offices in their respective regions, ensuring smooth coordination and information sharing.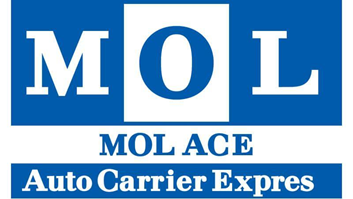 If you are interested in shipping finished vehicles or non-self-propelled cargo, please contact MOL. We can offer you a high quality and competitive transportation service to various regions worldwide using our advanced marine transportation network.
Find More "MOL ACE Service Details"