MOL Ferry Co., Ltd. and Ferry Sunflower Limited merged and started operations as MOL Sunflower Ltd on 1 October 2023. MOL Sunflower operates 10 ferries and 5 roll-on/roll-off (RORO) vessels on 6 routes, employing more than 500 people on land and at sea. Overall, the MOL Sunflower Group employs approximately 1,000 people. With a roughly 30% share of Japan's domestic marine transportation market and the largest route network and number of vessels in operation in Japan, the company provides stable services in both logistics and passenger travel.
On this merger and formation of a new company, we have interviewed the new president and MOL Group executive officer, Hirotoshi Ushioku, about the vision and aims of MOL Sunflower Ltd.
Strengthened our management foundation and established a system to autonomously cope with environmental changes through the integration
---Please tell us about the purpose of this business integration.
Ushioku
Lead the domestic shipping industry by staying sensitive to societal and market changes, while pushing forward innovative developments
---Please tell us about your management policy (desired state)
Ushioku
The corporate philosophy that I envision for MOL Sunflower Ltd. is one in which we contribute to the development of society and the economy as a comprehensive transportation company. We aspire to become a ferry and domestic RORO ship operating company that is recognized worldwide in terms of business scale, sound management, and employee happiness. We aim to provide high-quality logistics services that solve social issues, such as the "Logistics 2024 Problem", and differentiate ourselves from competitors through our "Casual Cruise"*1 strategy. We will strive to offer our customers not just a means of transportation for them to reach a destination, but a memorable journey that leaves a lasting impression.
*1 "Casual Cruise" refers to a fundamental concept of the Mitsui O.S.K. Lines Group Ferry Business of offering a high-quality cruise experience that can be enjoyed on regular routes.
Our business management policy comprises of three pillars to help us achieve our goals:
1. "Visualization (creating visibility)":
We operate our business in such a way that it enables us to visualize what is difficult to see. For example, we will increase the trust of customers and business partners by expressing abstract expressions such as "service" and "safety" in a creative and comprehensible way so that anyone could understand these briefly.
Our policy is to pursue visualization, even for internal documents, when sharing information and conducting business operations with a high level of transparency.
2. "Collaboration":
The two companies involved in the business integration have been undergoing continuous business reforms over a long period of time, and we are experiencing the fruits of those efforts. That is why we will be more proactive in our efforts to have options for cooperation and collaboration with other MOL Group business units, external services, experts, and other parties, having the flexibility to listen to the opinions of third parties will lead to innovation and be the key to business growth. We will actively collaborate with external parties to promote flexible ideas and ways of working throughout the company.
In the age of information society, everything is changing at an unprecedented rate. We will leverage the advantages of being a subsidiary company under the group executive officer system and put into practice swift decision-making. We will prioritize a sense of speed in our business operations, taking action even if uncertainty exists, quickly changing direction and adapting if something doesn't work out as expected.
---What new initiatives would you like to start immediately?
Ushioku
---Please provide examples of how ICT is currently being utilized.
Ushioku
Currently, we are working on improving the onboard communication environment for ferries and domestic RORO ships. We are trying to significantly improve the communication environment between land and sea by utilizing Starlink, a communication service provided by KDDI Corporation using low-orbit satellites. The improved communications environment will enable information necessary for safe ship operations to be shared with the vessel in a timely manner. It will also make it easier for crew members to keep in touch with family and friends, which we believe will improve the work environment and increase engagement. In the near future, we are considering offering onboard Wi-Fi service to passengers on board. The first step is to improve the communication environment between land and sea to provide a safer, more secure, and more comfortable service than ever before.
---The efforts toward a decarbonized society are also attracting attention.
Ushioku
Japan's first LNG-fueled ferries, the "Sunflower Kurenai" and "Sunflower Murasaki," which started operating between Osaka and Beppu in January and April 2023, have received the Good Design Award 2023 organized by the Japan Institute of Design Promotion (JDP). This is the first time in 33 years that a long-distance ferry has received this award. In receiving the award, we were highly evaluated for the realization of Japan's first LNG-fueled ferry that responds to pressing social issues such as environmental issues and modal shifts. In addition, the fact that we have reflected the more than 100-year history of our ferry business in the interior design of the vessel, while skillfully incorporating updates in line with the times such as information provision using QR codes and a universal design for the terminal.
Two more LNG-fueled ferries are scheduled to start service between Oarai and Tomakomai in 2025. Implementation of LNG-fueled vessels will reduce emissions of carbon dioxide (CO₂), a greenhouse gas, by approximately 25% compared to conventional vessels. In the future, we will continue to research and consider the use of new alternative fuels, and we intend to be the first mover in the industry to actively engage in this area.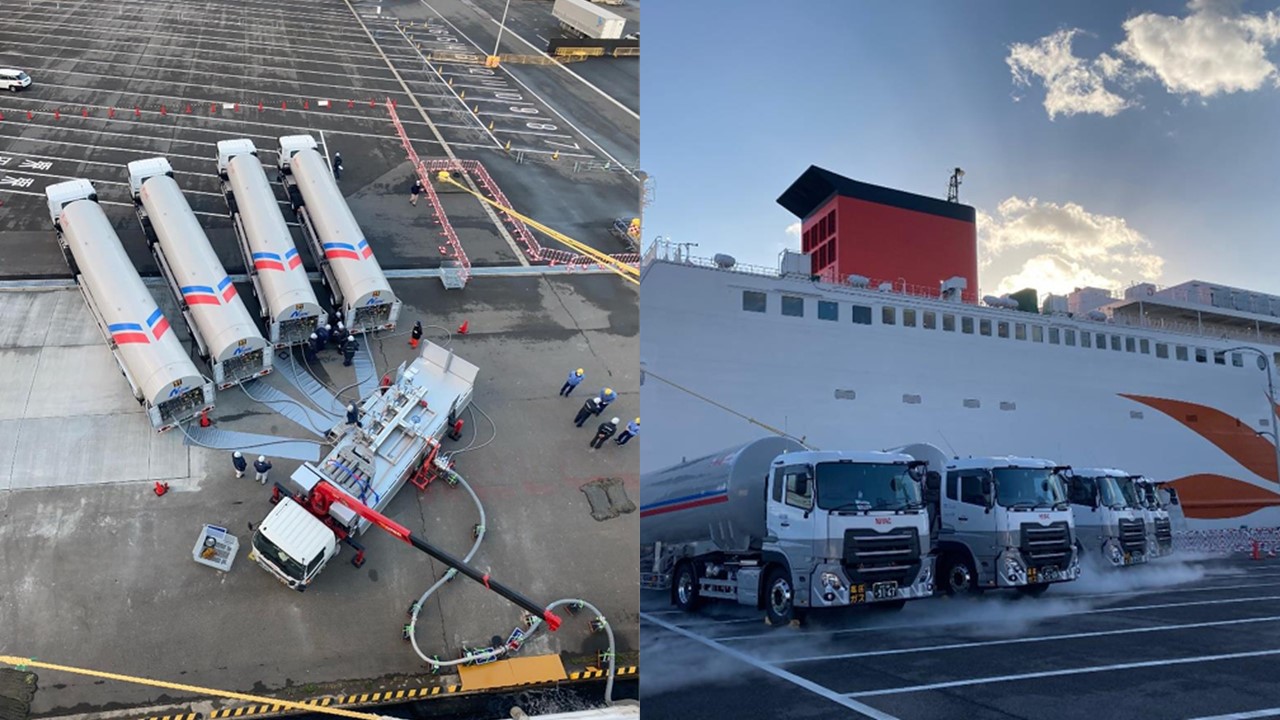 Under the integrated slogan "Protected by the Sun, as One," MOL sunflower will continue to contribute to people's well-being through comfortable and pleasant voyages that provide a sense of "bond", "peace of mind, and trust, supporting Japan's logistics." We look forward to your support and custom of 'Sunflower' in the future".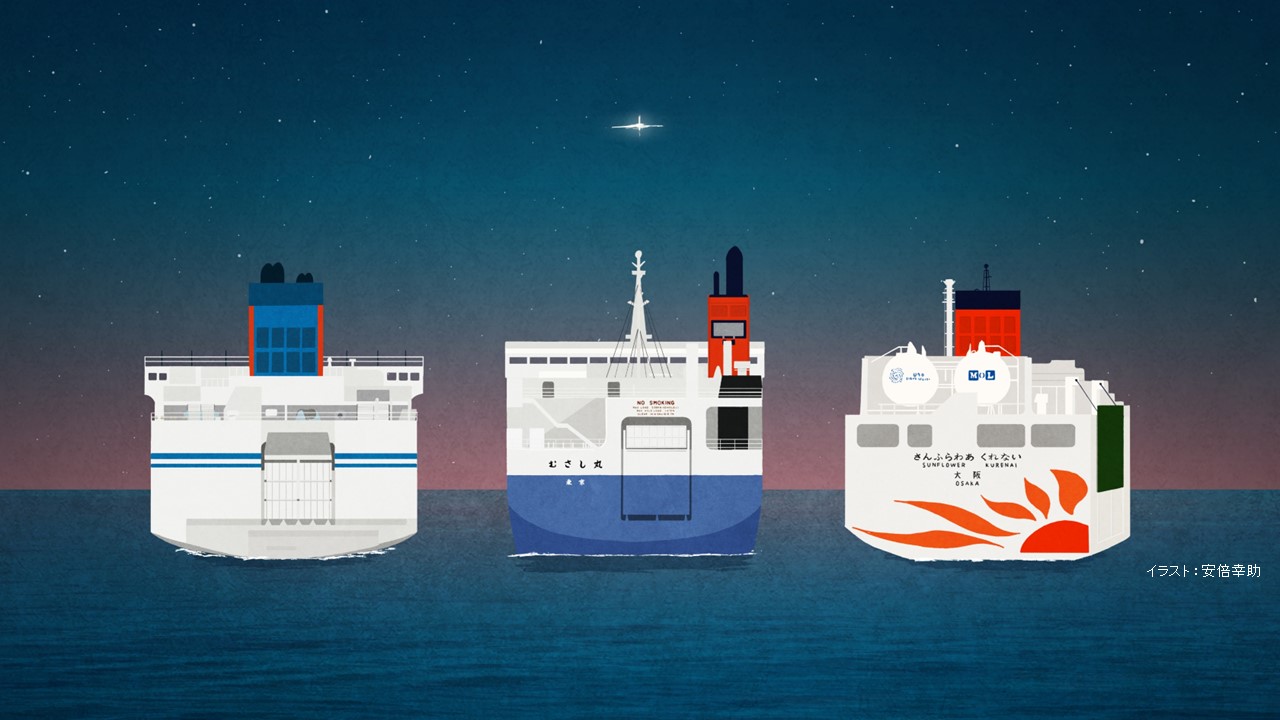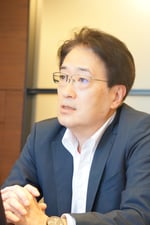 ■Profile
Hirotoshi Ushioku
MOL Sunflower Ltd.
Representative Director, President and Chief Executive Officer
Hirotoshi Ushioku joined Mitsui O.S.K Lines Ltd. in 1986. First, he worked in the accounting division. He moved to MITSUI O.S.K LINES (AMERICA) INC., he was also transferred to MITSUI O.S.K BULK SHIPPING (EUROPE) LTD. and served as the leader in the Car Carrier business. He became the head of the Car Carrier Department in 2015, executive officer in 2018, a managing executive officer in 2021, as a senior managing executive officer in 2022, Director General, Headquarters of Product Transport & Real Property Business, Responsible for; The Americas Area, Car Carrier Division, and an advisor in 2023. In October of the same year, Mr. Ushioku has been assigned as President and Chief Executive Officer of MOL Sunflower Ltd.