Thank you for visiting our site!
Last year, MOL renewed its Corporate website in consideration of customer convenience for company information as a whole. Now we have opened a "Service Site" to provide information on specific products and business fields, with specialized information about the shipping industry. For its start, the "Service Site" introduces three services: FSRU (Floating Storage Regas Unit), Heavy Cargo Transportation, and Automobile Transportation.(Click here forcorporate website)

We will publish more information about other projects in MOL as they become available. In addition, we will also be posting various topics concerning the shipping industry from a perspective unique to MOL as blogs, so please look forward to them!

(MOL's transportation business provides a wide range of services, including dry bulk carrier services, energy transportation services, product transportation services, and other related business services.)
MOL's 130+ years history
In this blog, we will briefly introduce our company called "Mitsui O.S.K. Lines (MOL)" with a brief summary of its history.

According to the corporate site, it is stated that "In 1878, the iron steamship" Hideyoshi (*) Maru "started overseas transportation of Miike Coal (between Japan (Nagasaki Prefecture) and Shanghai). After that, Osaka Shosen Kaisha (the origin of "O.S.K." in the company's name), as the predecessor of MOL, was established in 1884. For more than 130 years since its founding, we have been working tirelessly to grow with an insatiable spirit of challenge." However, it is now 2020 and I am sure that many of you, like me, have difficulty imagining what the Japan of the 1880's was like. I'd like to try and give you a little idea of our industry 130 years ago.
* Hideyoshi is the name of a Japanese emperor in the late "Sengoku period" (1537-1598)
"Hideyoshi Maru" and Osaka Shosen Kaisha
Looking up 1878 on Wikipedia, the year when MOL started overseas transportation you will find that the Tokyo Stock Exchange was established and the country was undergoing a period of rapid modernization.

The "Hideyoshi Maru" introduced in these circumstances was an epoch-making iron steamship capable of transporting about 750 tons of coal at a time. By comparison, the largest ships we now generally use to transport coal carries around 100,000 tons - more than 130 times the capacity of the Hideyoshi Maru. This is an indication of just how much the size of ships has increased during the intervening years.

The name "Hideyoshi Maru" reflects a clear preference at that time to use the names of past emperors (all male) to christen vessels. Incidentally, when I was a new employee of MOL, I learned that the pronoun used for ships is "She", so it felt a little odd to name them after male emperors.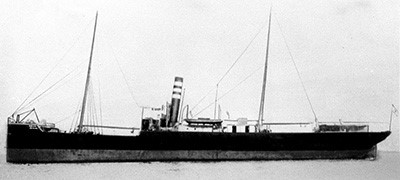 (Hideyoshi Maru)

In 1884, after the start of the first overseas shipment, Osaka Shosen Kaisha (O.S.K.) was established as a Japanese major shipping company with the cooperation of shipowners of the Seto Inland Sea Area who invested 93 ships in the company. The road leading up to the birth of the company was littered by a series of twists and turns, but we can say the company inherited the will and passion of the strong minded merchants and businessmen who helped create the company and lived during the turbulent times of the Meiji era. This mentality has remained true of the company from 1884 right up to the present day. We will always strive to provide the best and most cost-effective service for our customers.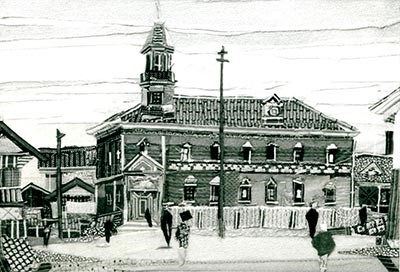 (Osaka Shosen's founding office building)
What was like "first overseas transportation of Miike coal"?
Miike coal, as the name implies, was coal mined from the Miike coal mine. This mine had been one of Japan's leading coal mines since the Edo period, where mining operations continued until 1997.

In our history, our first sea operation was the transportation of Miike coal from Japan (Nagasaki Prefecture) to Shanghai. At that time, imported Taiwan coal, Australian coal, etc. was already available in the Shanghai market and therefore it was not easy to develop sales channels. However, by fully utilizing MOL's strengths and using proposal-based marketing we were eventually able to obtain a large number of orders for Miike coal to be used for power generation, and exports of the coal steadily increased. Today, MOL transports coal, mainly from Australia and Indonesia, to power plants worldwide. At the same time, we are actively working to reduce greenhouse gas emissions by introducing low-carbon fuels used in ships and participating in the use of renewable energy such as wind power.
MOL in 2020
Osaka Shosen Kaisha merged with Mitsui Senpaku, and then merged with Navix Line in 1999 to form the Mitsui O.S.K. Lines (MOL) of today. MOL started out in the business of overseas transportation of coal, and today MOL is able to meet the needs of its customers to transport a diverse range of cargoes, including oil, liquefied natural gas (LNG) and other energy sources, iron ore, grains, cement and other dry bulk cargo, as well as various products such as automobiles and construction machinery. Over the past 130 years, we have passed through several mergers and acquisitions, inheriting their positive attributes to enhance our insatiable spirit of challenge and helping us to continue to grow and strengthen. At present, we have the second largest fleet in the world, and as a multimodal ocean shipping company we transport a variety of cargoes. Going forward, we will continue to take on new challenges and support the lives of people.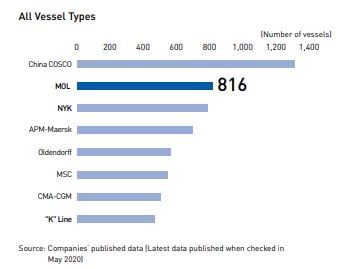 In our next post we will share with you the story of ship funnels (chimneys). I appreciate you registration to the Newsletter and I hope that you will continue to follow my story of MOL and the shipping industry.