A shift to renewable energy is currently being promoted around the world with the aim of achieving a decarbonized society. Renewable energy is any energy source other than fossil fuels that is made from permanently available resources. Solar and wind power are two such becoming common resources, but in Japan, where available land area is relatively small and mountainous, it is difficult to rely on these resources alone due to problems finding suitable installation sites. Mitsui O.S.K. Lines (MOL), a shipping company, has consequently turned its attention to the sea. Mr. Tetsushi Matsuoka, General Manager of the Sales Planning Team, Corporate Marketing Department, spoke with us about MOL's initiatives for the renewable energy business using ocean resources.
The 'ocean' with its inexhaustible energy resources is full of possibilities
--First, could you tell us about ocean renewable energy in general.
Matsuoka
Ocean renewable energy refers to five types of renewable energy: (1) offshore wind power, (2) wave power, (3) tidal power, (4) ocean current power, and (5) ocean thermal energy conversion (OTEC). The oceans, which cover 70% of the Earth's surface, provides an inexhaustible supply of energy, such as seawater and waves, which are reliable even in adverse weather conditions and therefore can be expected to provide a stable power supply. Offshore wind power, the only one of the five that has been commercialized on a large scale to date, is estimated to have a potential of about 18.9 GW. As you may well be aware, large-scale project developments have been underway in Japan over recent years.
Global Wind Energy Council"Japan- Offshore Wind Technical Potential
Of these ocean renewable energies, MOL is involved in the R & D of offshore wind, wave power, and OTEC fields with the eventual goal of commercialization.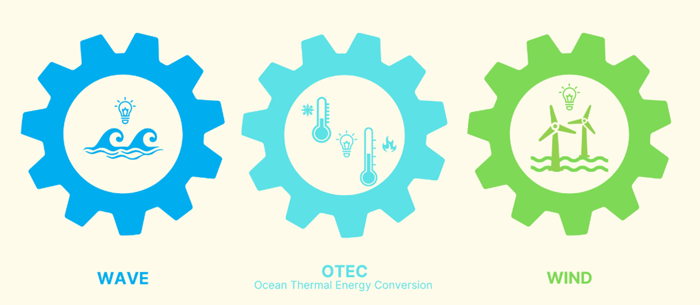 We were among the first to undertake offshore wind power generation, and in 2021 we established a dedicated business unit. We aim to contribute to the entire offshore wind value chain by leveraging our extensive knowledge of the sea, ships and floating structures.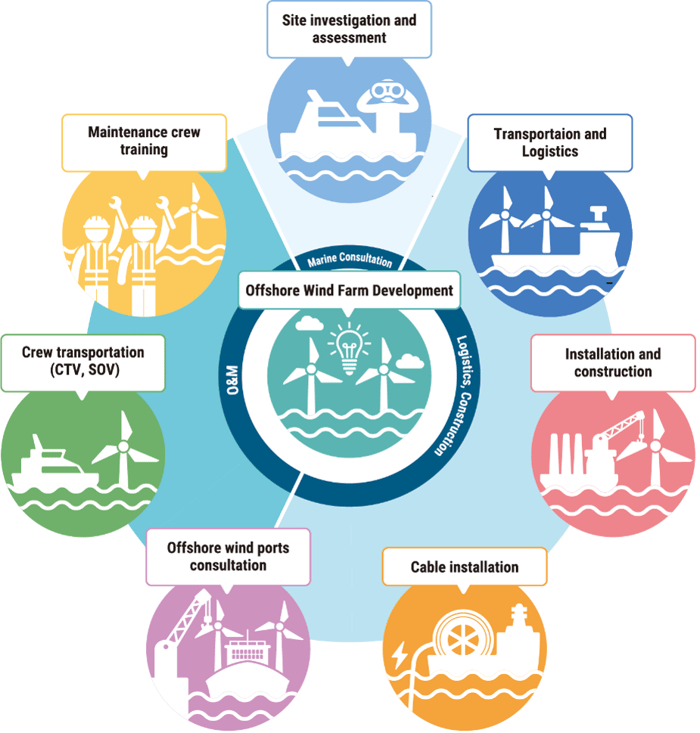 Download Here: More information on MOL's wind power projects
Creating a Community Together with Next-Generation Power Generation Technology "OTEC"
--What kind of power generation technology is OTEC?
Matsuoka
Briefly, it is a system that uses the temperature difference between cold deep water and warm surface water to evaporate a medium such as ammonia, which turns a turbine generator to generate electricity. Suitable locations are found around the equator, where the surface temperature of seawater is high all through the year, and for Japan, this applies to Okinawa in the south. Japan has a long history and accumulation of knowledge through research led by Saga University since the 1970s, and this, along with government support, has attracted considerable attention. We are actively engaged in business development to become a pioneer in the commercialization of OTEC.
How OTEC Works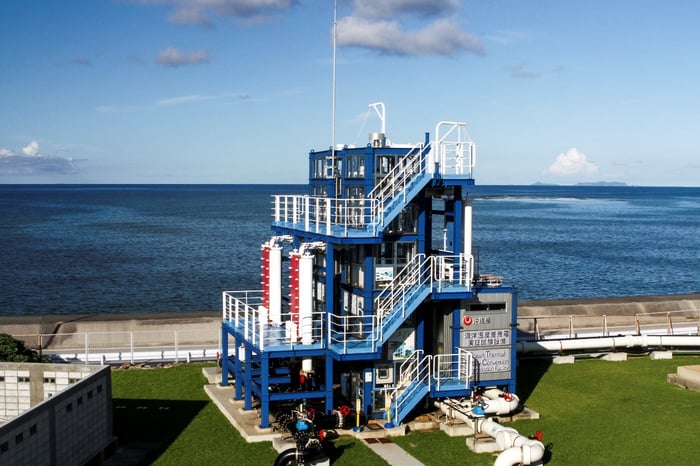 OTEC facility in Kumejima


First of all, the facility utilization rate is extremely high. For example, in the case of solar power generation in Japan, the utilization rate is only about 20% because electricity cannot be generated at night or during bad weather. Offshore wind power is also around 20 to 30% because it is affected by the presence or absence of wind. OTEC, on the other hand, has a high usage rate of 85 to 90%. As the resource used is seawater, there is little diurnal variation, and in tropical regions it is less affected by the seasons.
It is also important in being able to save space. The land area required is about 1/100 that needed for sunlight power generation, so even small islands and island countries with a weak power infrastructure do not need to use so much space for installation and it has minimal impact on the landscape.
-- The secondary use of pumped seawater is attracting attention, isn't it?
Matsuoka
Yes, this is the main attraction of OTEC. For example, the Kumejima model in Kumejima Island in Okinawa Prefecture illustrates the wide range of uses for deep sea water. Deep sea water is a general term for seawater that is deeper than 200 meters in depth and is characterized by being "clean", "nutrient-rich (eutrophication)", and stable at low temperatures (cold-stable). In Kumejima, an intake pipe has been installed for more than 20 years for the industrial use of deep-sea water in culturing prawns and sea grapes, cosmetics, health foods and, beverages, taking advantage of its cleanliness and eutrophication properties. The production of related products amounts to more than 2.5 billion yen a year and its use continues to grow in major industries on the island. It is also being used in a variety of other areas, including the growth of leafy vegetables, by taking advantage of its low temperature stability in cool greenhouse cultivation. Its use in OTEC is another one of its derivatives, and if its usage becomes practical, it will make the surrounding area self-sufficient in energy, water, and food.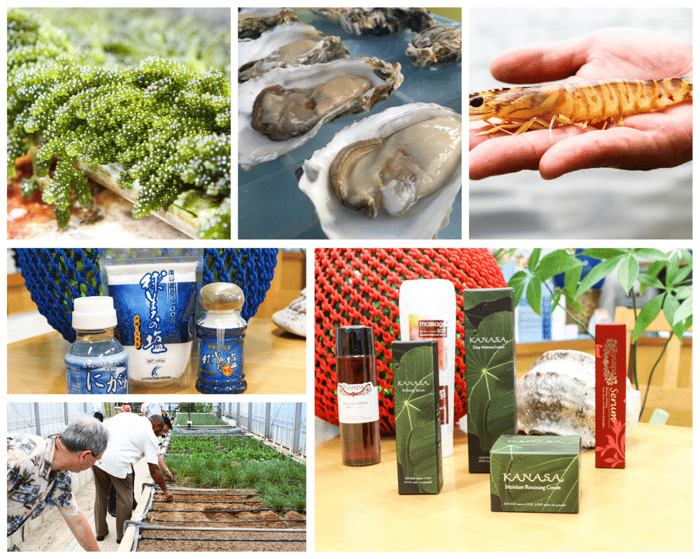 OTEC's appeal lies in its ability to contribute to urban development and local communities by nurturing industries and utilizing deep ocean water not only for power generation but also for a variety of other industries in the region. OTEC is a technology with great potential in solving social issues which we, as a shipping company familiar with ships and the sea, can bring to fruition. The company plans to conduct a demonstration test with the aim of commercializing the system in 2025, and is considering overseas expansion in Mauritius, Indonesia, Malaysia, and other countries. We would like to expand this solution worldwide by identifying areas where there is both an electricity demand and suitable deep ocean water is available.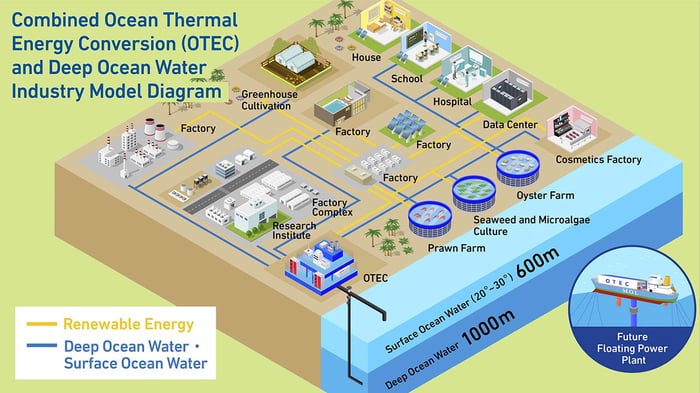 In the future, we are also looking at the concept of floating OTECs, which can generate electricity on a larger scale by installing power generation facilities offshore. We will continue to take on the challenge of growing OTEC into a core MOL business.

Tetsushi Matsuoka
Joined the company midway through 2005 and has served in the Corporate Marketing Division since 2019. Our efforts to develop new business areas have been a little slow to produce results, but we are committed to moving forward under the mantra of "Don't lose your way, you'll find out when you get there." When I feel under pressure from my work, I watch the film "8 mile" to relax and help me refocus and return to a more positive frame of mind.