MOL COILPORTER®

Coastal Conventional Vessel and Ferry Transportation of Steel Coils using 10ft containers from Kobe to Okinawa.
Coastal Conventional Vessel and Ferry Transportation of Steel Coils using 10ft containers from Kobe to Okinawa.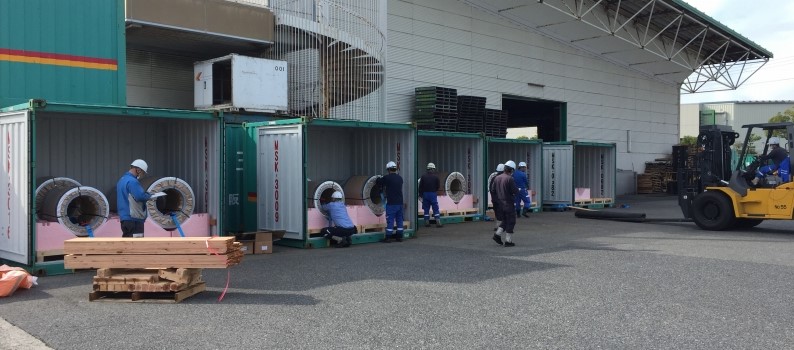 20 coils are being vanned simultaneously in a 10ft container owned by Marusan Kaiun Co., Ltd (Marusan Kaiun) in the warehouse of Shosen Koun Co., Ltd. (SHOSEN KOUN)
Significant reduction of cargo handling time has been achieved.
MOL Group company, SHOSEN KOUN, which operates domestic conventional vessels was contracted by Marusan Kaiun to perform the entire vanning and cargo handling operations. One year has passed since the project started in October 2021, and more than 1,000 coils have already been transported safely and efficiently. We are building on this track record.
Significant Improvement in Cargo Handling Efficiency
With the conventional lashing method, it takes about one hour to load four coils (equivalent to one container) in a flat rack container. Considering the various preparations, the maximum capacity was about eight coils (equivalent to two containers) per day.
By using the MOL COILPORTER®, it now takes only 10 minutes for 4 coils and 80 coils (equivalent to 20 containers) can be handled per day with no advance preparation required.
We have also received feedback from a devanning company in Okinawa that they have been able to reduce the number of workers from the usual three or four to one or two.
We interviewed a person in charge of the actual devanning operation at Daiichi Koun Co., Ltd.
Click below to watch a video introducing the MOL COILPORTER®.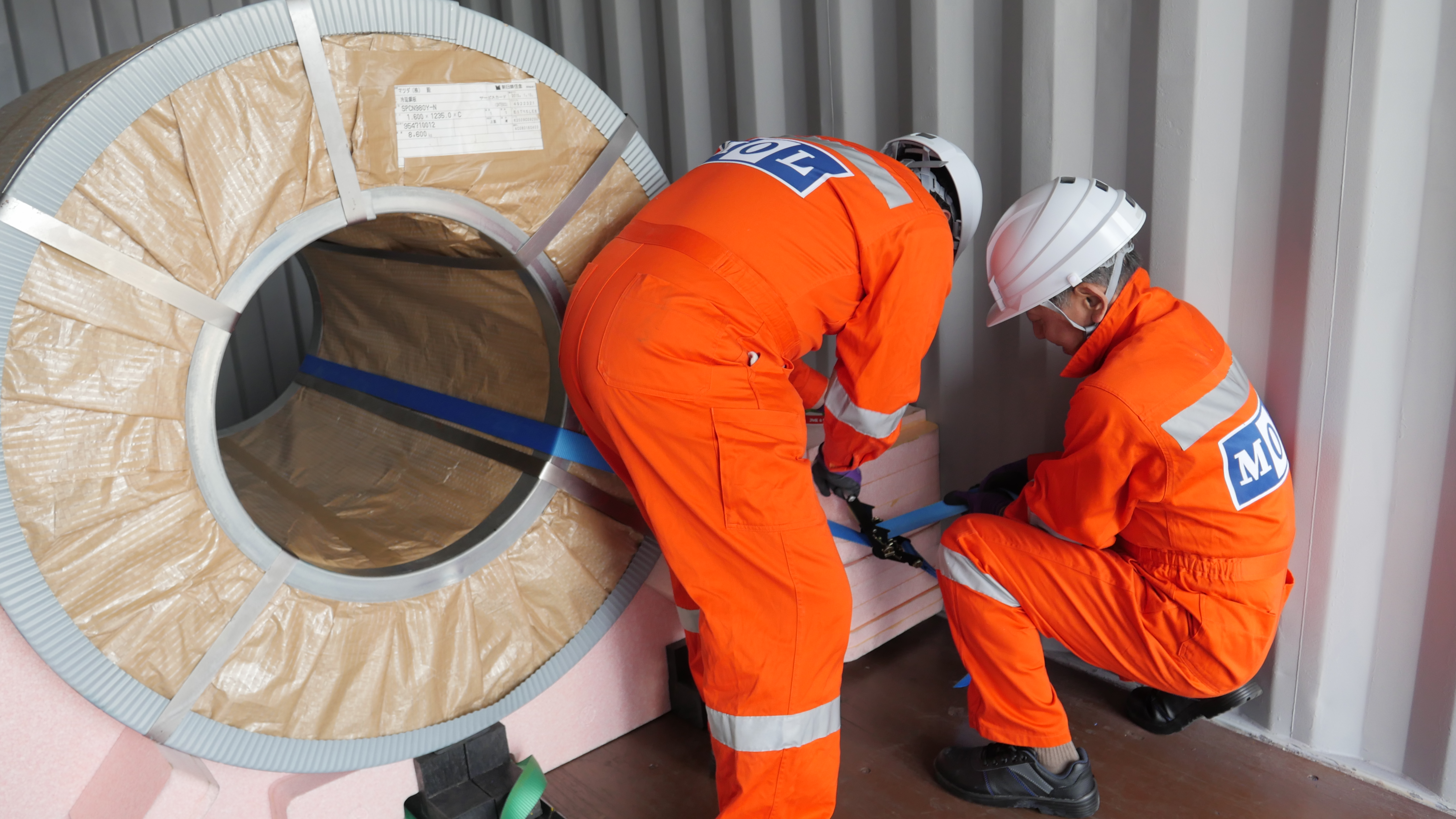 Eliminates concerns about rain damage and cargo collapse
Conventional flat rack containers were covered with sheets, but there was a high possibility of rain leakage and cargo damage. Both customers and shipping companies were particularly concerned about preventive measures for this cargo.
By using Coil Porter® to tightly tie the cargo in a 10ft container during transportation, all previous concerns have been eliminated, and the conventional damage caused by hard touch to square timbers, etc., can also be avoided due to Eperan's cushioning function that gently holds the cargo.
In addition, since it is stored in a container, it can be stored outdoors without the risk of rain damage, further enhancing convenience.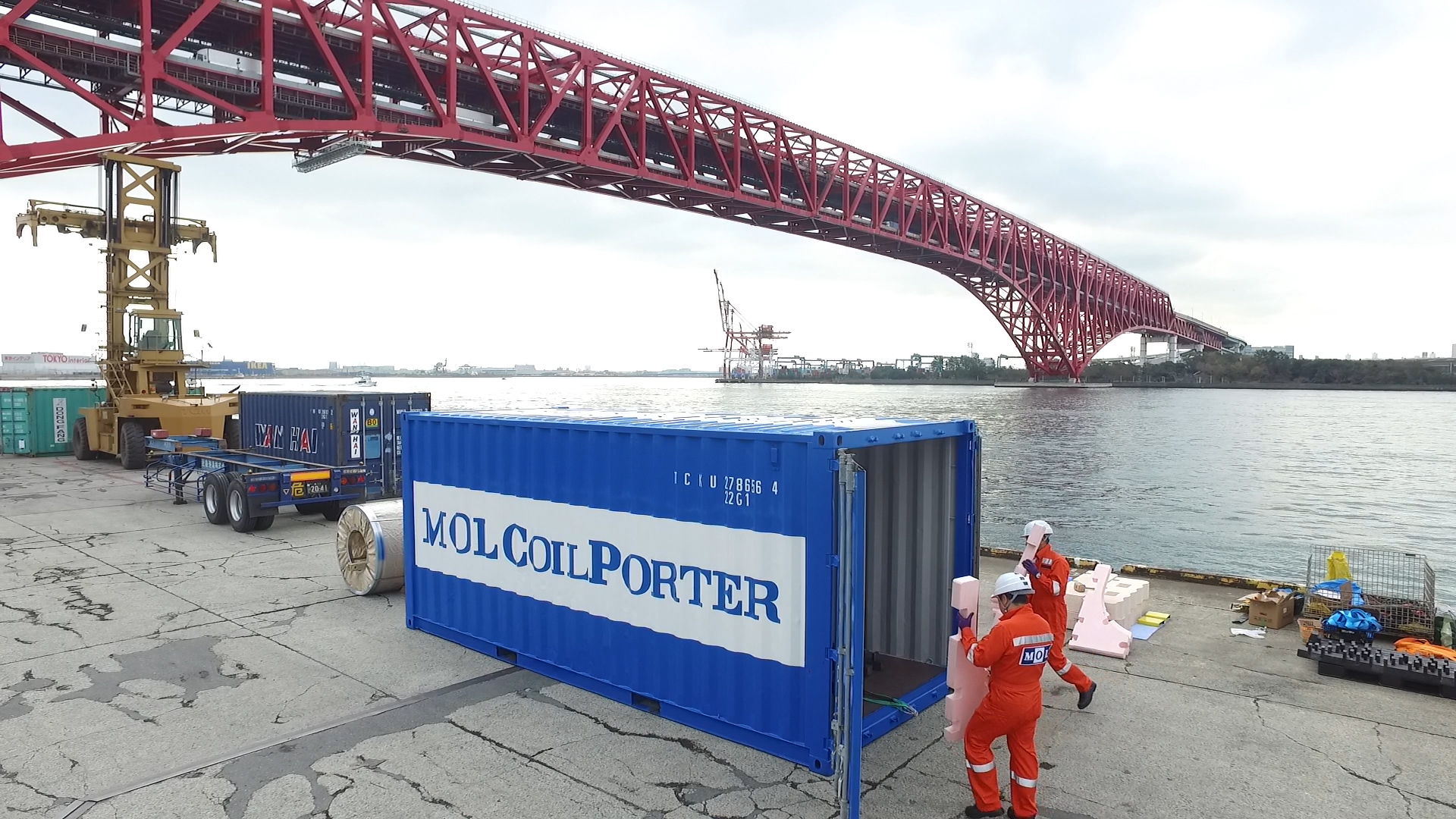 Achievements and Future Prospects
Since the start of trial transportation in September 2021, we have safely transported approximately 1,000 coils in one year through August 2022.
Currently, we transport strip steel coils. But in the future, we will actively expand our business to transport a wide variety of steel coils, including wire rod coils, as well as to provide new loading and unloading points in a wider range of locations.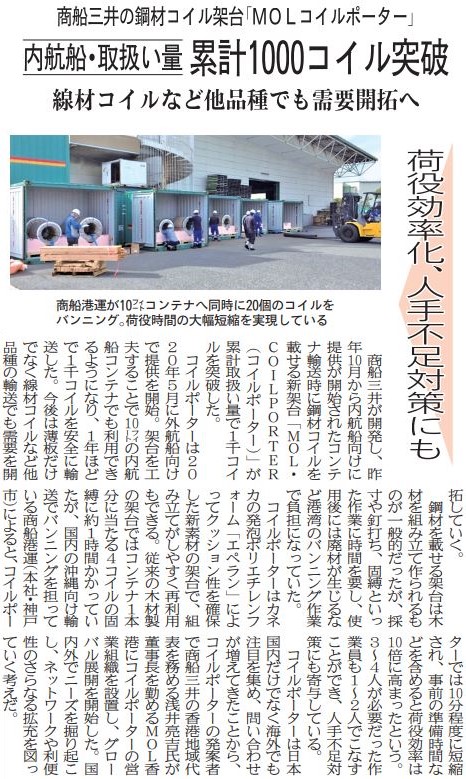 This Case Study was also published in Japan Metal Daily.
Please also see the blog of the interview with Mr. Asai, MOL's representative in Hong Kong, who is the inventor of MOL COILPORTER®.
Inquiry (Transporting Heavy Cargos such as Steel Coils)
Heavy Cargo Transportation Case Studies

MOL Project & Heavy Cargo Service Overview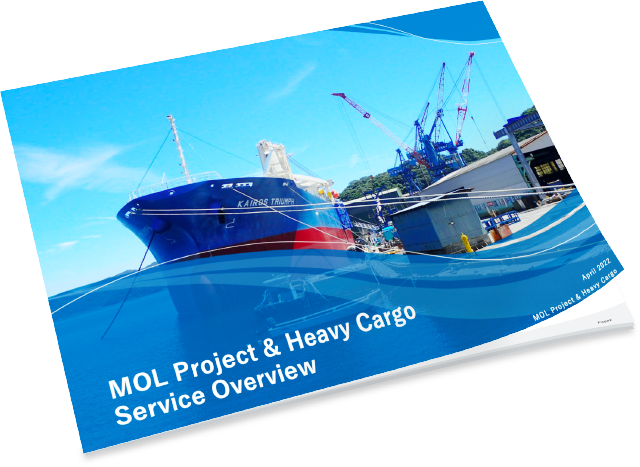 Download service materials overviewing the capability of MOL Project & Heavy Cargo (MOL PHC), including our fleet and equipments and introduction of our group companies.

Services (Heavy Cargo Transportation)
FAQ
Introducing frequently asked questions and answers about heavy cargo transportation.
Glossary
Explanations of terms concerning facilities and basic knowledge related to heavy cargo transportation.